Image: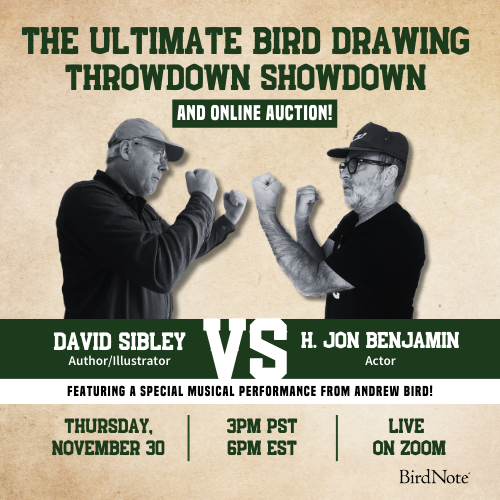 Join BirdNote tomorrow, November 30th!
Illustrator David Sibley and actor H. Jon Benjamin will face off in the bird illustration battle of the century during BirdNote's Year-end Celebration and Auction!
The third annual Black Birders Week is May 29 through June 4. The event was first created in 2020 in response to renowned birder Christian Cooper being racially profiled and harassed in Central Park. Organized by the Black AF in STEM Collective, the week celebrates the Black birding community and invites more Black people to learn about birds through online activities, workshops, and in-person events. The theme for Black Birders Week 2022 is "Soaring to Greater Heights." Each day of the week also has its own theme:
Image: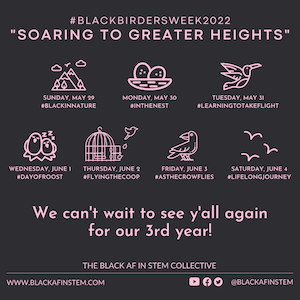 Sunday, May 29: #BlackInNature
Monday, May 30: #InTheNest
Tuesday, May 31: #LearningToTakeFlight
Wednesday, June 1: #DayOfRoost
Thursday, June 2: #FlyingTheCoop
Friday, June 3: #AsTheCrowFlies
Saturday June 4 - #LifelongJourney
Learn how you can participate by exploring the complete schedule here and by following #BlackBirdersWeek and #BlackBirdersWeek22 on social media!
 
Virtual Event: The Mental Health Benefits of Birding
June 1, 2022 at 7:00 PM EST / 4:00 PM PST
Curious about the connection between nature and mental health? Join Black AF in STEM and BirdNote to learn how to combine mindfulness and birdwatching to improve mental health. Bring Birds Back podcast host Tenijah Hamilton moderates this discussion with Black Birders Week organizers Sheridan Alford, Nicole Jackson, and Deja Perkins.

Black Birders Week on BirdNote Daily
This year, Black AF in STEM and BirdNote are co-producing a week of shows centered on the stories of Black birders. Explore the episodes below:
The Black Heron, by Chelsea Connor
Sunday, May 29
This heron has an impressive trick for catching fish! The Black Heron is the bird chosen to represent Black Birders Week 2022.
Spark Bird: Dara Wilson and the Blue-gray Tanager
Monday, May 30
Learning a bird's song by teaching people about it.
Sheridan Alford on Birding and Mental Health
Tuesday, May 31
Observing the natural world to feel grounded.
Urban Birding with Deja Perkins
Wednesday, June 1
It just takes five minutes of mindfulness!
Dinosaurs in the Here and Now, by Adé Ben-Salahuddin 
Thursday, June 2
Finding a new appreciation for birds as living dinosaurs.
Bringing Birding Adventures to Broward County: Dara Wilson interviews Sierra Taliaferro
Friday, June 3
Giving people the tools they need to go birding where they live!
Bonding With Mom Through Birding, by Nicole Jackson
Saturday, June 4
A visit home becomes a magical moment with birds!

See past Black Birders Week content from BirdNote and links to more resources here.