Image: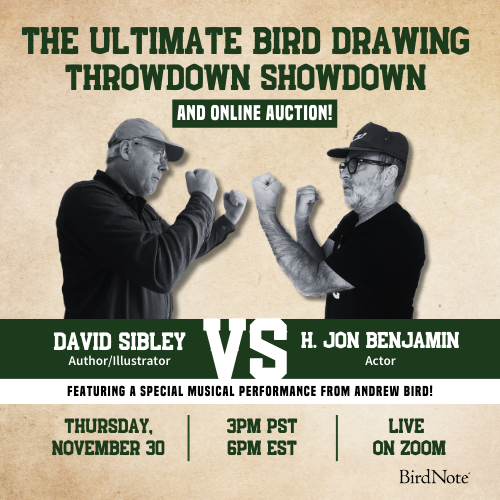 Join BirdNote tomorrow, November 30th!
Illustrator David Sibley and actor H. Jon Benjamin will face off in the bird illustration battle of the century during BirdNote's Year-end Celebration and Auction!
Ever heard the term "eagle eye"? An eagle's vision is incredibly sharp, and its eyes can weigh more than its brain. The secret to the bird's exceptional vision is the density of visual cells – the rods and cones – of its retina.
BirdNote®
The Eagle's Eye
Written by Adam Sedgley

This is BirdNote.

[Ambient prairie sounds of Eastern Washington – with call of Golden Eagle]

Ever heard the term "eagle eye"? An eagle's vision is incredibly sharp, and its eyes can weigh more than its brain. The secret to the bird's exceptional vision is the density of visual cells, the rods and cones of its retina.

Rods in the eye register the overall shape of objects, while the cones register details, such as contour and color. The rods and cones in a raptor's eye may be five times more dense than those in a human eye.

[Repeat call of Golden Eagle]

The Golden Eagle soars on a seven-foot wingspan, riding thermals high into the air. From there, it can spot the minute movements of its favorite prey, a rabbit, from over a mile away. That's like you driving forty miles an hour and being able to look back at where you were when this BirdNote started — and spotting that same rabbit.

[Repeat call of Golden Eagle]

Head over to our website, birdnote dot org, to learn more.  

For BirdNote, I'm Ashley Ahearn.

Support for BirdNote comes from the Port Aransas Tourism Bureau. Home to hundreds of species of birds and the Whooping Crane Festival in February. More at visit port aransas dot com.

###

Producer: John Kessler
Executive Producer: Sallie Bodie
Managing Producer: Jason Saul
Editor: Ashley Ahearn
Associate Producer: Ellen Blackstone
Assistant Producer: Mark Bramhill
Narrator: Ashley Ahearn
Bird sounds provided by The Macaulay Library of Natural Sounds at the Cornell Lab of Ornithology, Ithaca, New York. [4160] recorded by A.L. Priori.
BirdNote's theme was composed and played by Nancy Rumbel and John Kessler.
© 2019 BirdNote   November 2016 / 2019 / April 2023

ID#  sight-02c-2019-11-12   sight-02c

Peter E. Nye, New York State Dept. Environmental Conservation, Division of Fish, Wildlife and Marine Resources, Albany, NY