Image: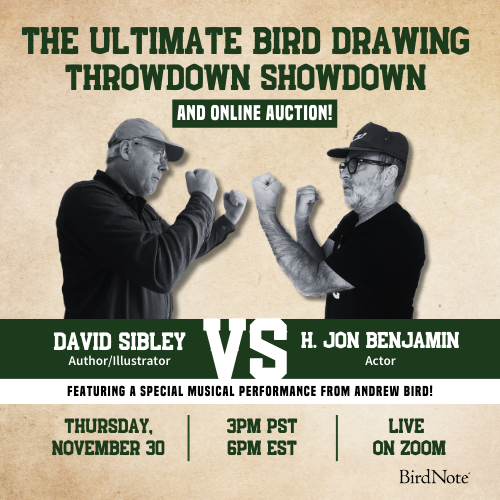 Join BirdNote tomorrow, November 30th!
Illustrator David Sibley and actor H. Jon Benjamin will face off in the bird illustration battle of the century during BirdNote's Year-end Celebration and Auction!
The Red-backed Fairy-Wren, a tiny songbird living in the Australian scrublands, is highly territorial and promiscuous. The male can't be sure the eggs in his nest are his own. One way to help avoid this problem? The male may rough up a rival who approaches his territory. But research shows when Red-backed Fairy-Wren pairs sing a duet in order to deter rival males from intruding on their territory, those pairs had more of their own genetic offspring in their nests. For the male, aggression might not ensure paternity, but singing a duet could.
BirdNote®
Fairy-Wrens - To Duel or Duet?
Written by GrrlScientist

This is BirdNote.

[http://macaulaylibrary.org/audio/201252 Emma I Greig 4:59-5:30 & 5:41-6:00 & 6:29-6:33 & 7:18-7:21 (male in foreground with a male in background): 8:28-9:26]

This bird has a problem. The Red-backed Fairy-Wren is a tiny, perky songbird that lives in the scrublands of northern and northeastern Australia. It's highly territorial. Both males and females vigorously defend their territory from intruders.
[http://macaulaylibrary.org/audio/201252 Emma I Greig 4:59-5:30 & 5:41-6:00 & 6:29-6:33 & 7:18-7:21  (male in foreground with a male in background): 8:28-9:26]
The problem is that Red-backed Fairy-Wrens are highly promiscuous, so it's difficult for a male to be sure that the eggs in his nest are his own. One way to avoid this predicament is for the male to physically challenge any rivals who approach his territory, by roughing them up. Another way to deal with it is to … sing.
[http://macaulaylibrary.org/audio/201252 as above]
Red-backed Fairy-Wren pairs will sing a duet, in order to deter rival males from intruding on their territory. Research published in 2016 found that the pairs that sang together had many more of their own genetic offspring in their nests than pairs where the resident male had spent most of his time beating up the intruder.
So for the male, aggression might not accomplish the goal of ensuring paternity. But singing a spirited duet with a partner could.
[http://macaulaylibrary.org/audio/201252 as above]
For BirdNote, I'm Michael Stein. 
                                                                              
###
Bird sounds provided by The Macaulay Library of Natural Sounds at the Cornell Lab of Ornithology, Ithaca, New York. 201252 recorded by Emma I Greig.
BirdNote's theme music was composed and played by Nancy Rumbel and John Kessler.
Producer: John Kessler
Executive Producer: Sallie Bodie
© 2017 Tune In to Nature.org   June 2017 / November 2023 
Narrator: Michael Stein

ID#        RBFAWR-01-2017-6-16               RBFAWR-01

read more: https://www.forbes.com/sites/grrlscientist/2016/03/07/birds-sing-duets-… (this piece includes several videos of these birds in action)