Image: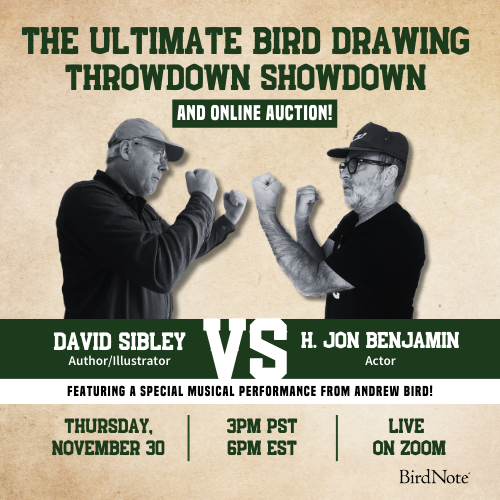 Join BirdNote tomorrow, November 30th!
Illustrator David Sibley and actor H. Jon Benjamin will face off in the bird illustration battle of the century during BirdNote's Year-end Celebration and Auction!
John Burroughs, one of the masters of American nature writing, wrote "The birds do indeed begin with the day. The farmer who is in the field at work while he can yet see stars catches their first matin hymns. In the longest June days the robin strikes up about half past three o'clock..." Burroughs wrote essays, poetry, and travel sketches, some in this cabin known as "Slabsides." Titles include Wake-Robin, Birds and Poets, Birds and Bees and Other Studies in Nature, Bird and Bough, and others.
BirdNote®
John Burroughs on Birds (Part II)
Written by Bob Sundstrom
 
This is BirdNote!
[song of Wood Thrush]
Yesterday's BirdNote introduced us to John Burroughs, one of the masters of American nature writing. Today, listen to a passage from Burroughs on one of his favorite topics: the birds we live among.
"The birds do indeed begin with the day. The farmer who is in the field at work while he can yet see stars catches their first matin hymns. In the longest June days the robin strikes up about half past three o'clock, and is quickly followed by the song sparrow, the oriole, the catbird, the wren, the wood thrush, and all the rest of the tuneful choir. [continued song of Wood Thrush with songs of American Robin, Song Sparrow and Baltimore Oriole]
"Along the Potomac I have heard the Virginia cardinal whistle so loudly and persistently in the treetops above [Northern Cardinal song], that sleeping after four o'clock was out of the question [Northern Cardinal song]. Just before the sun is up, there is a marked lull, during which, I imagine, the birds are at breakfast. While building their nest, it is very early in the morning that they put in their big strokes; the back of their day's work is broken before you have begun yours."
[Song of Wood Thrush, Baltimore Oriole with Downy Woodpecker call]
The bird sounds for BirdNote are from the Cornell Lab of Ornithology. Nancy Rumbel and John Kessler composed and played the theme music. BirdNote shows are produced by John Kessler. I'm Frank Corrado.
###
Bird audio provided by The Macaulay Library of Natural Sounds at the Cornell Lab of Ornithology, Ithaca, New York. Song Sparrow and Baltimore Oriole song recorded by A.A. Allen.  American Robin song recorded by G.A. Keller.  Wood Thrush song recorded by G.F. Budney.  Northern Cardinal song recorded by W.L. Hershberger.
Producer: John Kessler
Executive Producer: Chris Peterson
© 2010 Tune In to Nature.org    Jan. 2010
ID# 012307burr2-2KPLU        burroughs-02
[quotation from Burroughs's essay "A Summer Voyage" p. 51-52 in Birch Browsings: A John Burroughs Reader, Penguin Books, 1992 collection edited and introduced by Bill McKibben]