Image: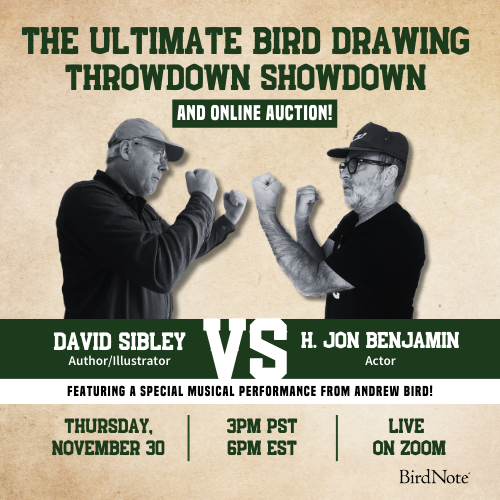 Join BirdNote tomorrow, November 30th!
Illustrator David Sibley and actor H. Jon Benjamin will face off in the bird illustration battle of the century during BirdNote's Year-end Celebration and Auction!
The ancient Greeks and Egyptians described a mythical bird called the Phoenix, a magnificent creature that was a symbol of renewal and rebirth. According to legend, each Phoenix lived for 500 years, and only one Phoenix lived at a time. Just before its time was up, the Phoenix built a nest and set itself on fire. Then, a new Phoenix would rise from the ashes.
BirdNote®
The Legendary Phoenix
Written by Bob Sundstrom

This is BirdNote.

Some birds are very well known. A few are even legendary.

The ancient Greeks and Egyptians described a mythical bird called the Phoenix, a magnificent creature that was a symbol of renewal and rebirth.

According to legend, each Phoenix lived for 500 years, and only one Phoenix lived at a time. Just before its time was up, the Phoenix built a nest and set itself on fire. Then, a new Phoenix would rise from the ashes.

Both the Greeks and Egyptians associated the Phoenix with the sun. One myth says the dawn song of the Phoenix was so beautiful, the sun god Apollo would stop his chariot — and the sun — to listen.

Ancient sources differ on the bird's size and color. Some say it was the size of an eagle; others,   bigger than an ostrich — with bright red and gold or maybe even purple feathers. All agree it **definitely had a golden aura. And in every version, it was exotic, literally one of a kind.

Poet Wallace Stevens imagined the mythical "gold-feathered bird" perched in a palm tree. He wrote:

"The bird sings. Its feathers shine.
The palm stands on the edge of space.
The wind moves slowly in the branches.
The bird's fire-fangled feathers dangle down."

For BirdNote, I'm Mary McCann.

###
BirdNote's theme composed and played by Nancy Rumbel and John Kessler.
"Canyon Sunset" Paul Winter Canyon 1986 Earth Music Productions
Producer: John Kessler
Managing Producer: Jason Saul
Associate Producer: Ellen Blackstone
© 2018 Tune In to Nature.org   December  2018/2020 / April 2023
Narrator: Mary McCann
 
ID#  phoenix-01-2020-12-30    phoenix-01

References:
See especially https://mythology.net/mythical-creatures/phoenix/
http://www.thehellenictimes.com/phoenix.html
[Poem excerpt from "Of Mere Being"]