Image: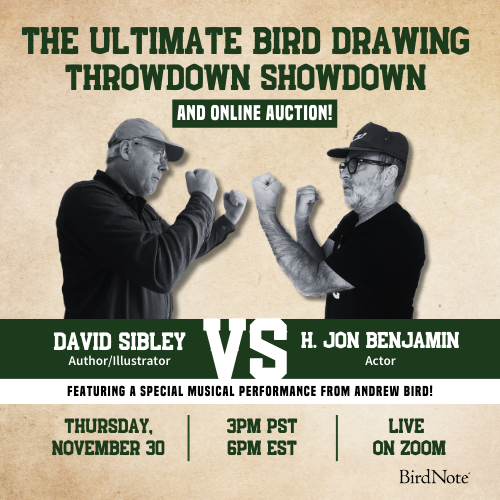 Join BirdNote tomorrow, November 30th!
Illustrator David Sibley and actor H. Jon Benjamin will face off in the bird illustration battle of the century during BirdNote's Year-end Celebration and Auction!
Ever wonder how the avian idiom, "A little bird told me," came about? The consensus is that the saying springs from the Old Testament of the Bible -- a maxim from Ecclesiastes. By the mid-16th century, the "little bird" showed up in collections of proverbs. In 1711, the satirist Jonathan Swift wrote in a letter: "I heard a little bird say so." If birds can reveal our secrets, you might want to keep an eye out for a kind of sandpiper known as the Wandering Tattler. They're found from far northern Alaska to South America, and all the way across the southern Pacific Ocean to Australia.
BirdNote®
A Little Bird Told Me
Written by Bob Sundstrom
This is BirdNote.
 [A bit of Wandering Tattler song and call: https://www.allaboutbirds.org/guide/Wandering_Tattler/sounds]
Sometimes, when we know something is just too good to keep secret but don't want to reveal the source, we say: "A little bird told me..."
Ever wonder how this avian idiom came about? How did birds become known as messengers of vital secrets – or just good gossip? The consensus is that the saying springs from the Old Testament of the Bible. A maxim from Ecclesiastes reads: "Even in your thought, do not curse the king, nor in your bedchamber curse the rich; for a bird of the air will carry your voice, or some winged creature tell the matter."
By the mid-16th century, the "little bird" showed up in collections of proverbs. In 1711, the satirist Jonathan Swift wrote in a letter: "I heard a little bird say so."
Do birds spread our deepest secrets?  Well, if this is the case, you might want to keep an eye out for a kind of sandpiper known as the Wandering Tattler. They're found from far northern Alaska to South America, and all the way across the southern Pacific Ocean to Australia.
So, if you hear this call on the beach [Wandering Tattler calling or singing], you might want to keep your thoughts to yourself!
[Wandering Tattler calling or singing]
For BirdNote, I'm Michael Stein.
                                                                            ###                                                             
Producer: John Kessler
Executive Producer: Sallie Bodie
Editor: Ashley Ahearn
Producer: Mark Bramhill
Associate Producer: Ellen Blackstone
Bird sound of the Wandering Tattler provided by The Macaulay Library at the Cornell Lab of Ornithology, Ithaca, New York. Recordings by G. Vyn, M Anderson, and  W.W.H. Gunn.
BirdNote's theme was composed and played by Nancy Rumbel and John Kessler.
© 2020 BirdNote   July 2020    Narrator: Michael Stein

ID#  072607littlebird            language-06b