Image: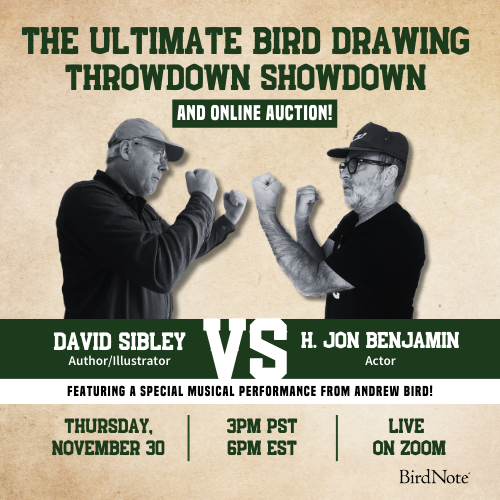 Join BirdNote tomorrow, November 30th!
Illustrator David Sibley and actor H. Jon Benjamin will face off in the bird illustration battle of the century during BirdNote's Year-end Celebration and Auction!
The celebrities of the Whooping Crane world have to be the Lobstick family, named for the Lobstick marshes where they nest in Canada. The Lobstick male, at 33, is the oldest Whooping Crane in the wild whose age we know for certain. And Tom Stehn of the US Fish and Wildlife Service tells us the Lobsticks have raised 17 chicks in 29 years. Still, increasing the population of Whooping Cranes is slow going. Healthy wetlands in Canada and in Texas - where the cranes winter - are essential to the future of the endangered Whooping Crane.
BirdNote®
The Lobstick Family – Celebrities of the Whooping Crane World
Written by Ellen Blackstone
 This is BirdNote!
Celebrity-watchers follow Brad and Angelina. [Screams of adoring fans]
There was rather a fuss over the Duke and Duchess of Cambridge [Continue screams of adoring fans]. But the celebrities of the Whooping Crane world have to be the Lobstick family. [Whoops of Whooping Cranes]
 Lobstick? The name comes from where the cranes nest, in the Lobstick marshes just outside the Wood Buffalo National Park of north-central Canada.
The Lobstick male – at 33 – is the oldest Whooping Crane in the wild whose age we know for certain. A pair of Whooping Cranes usually raises just one chick every other year. But Tom Stehn of the U.S. Fish and Wildlife Service tells us the Lobsticks have raised 17 chicks in 29 years. [Calls of young Whooping Cranes]
Increasing the population of Whooping Cranes is slow going. Part of the challenge is that young cranes don't know instinctively where to migrate. So they follow their parents on the journey south. The family stays together through the winter, munching on tasty blue crabs at Aransas on the Gulf Coast of Texas. And the young often make the trip back to Canada with their parents in the spring, only then going off on their own. [Whoops of Whooping Cranes]
Healthy wetlands in Canada and in Texas are essential to the future of the endangered Whooping Crane. [Whoops of Whooping Cranes] For BirdNote, I'm Michael Stein.
###
Bird sounds provided by The Macaulay Library of Natural Sounds at the Cornell Lab of Ornithology, Ithaca, New York.  Calls of Whooping Cranes and chicks by J. Huxmann. and whoops of adults again (LNS 2748) recorded by G. Archibald.
Producer: John Kessler
Executive Producer: Chris Peterson
© 2011 Tune In to Nature.org     October 2011   Narrator: Michael Stein
ID#  SotB-WHCR-02-2011-10-17