Image: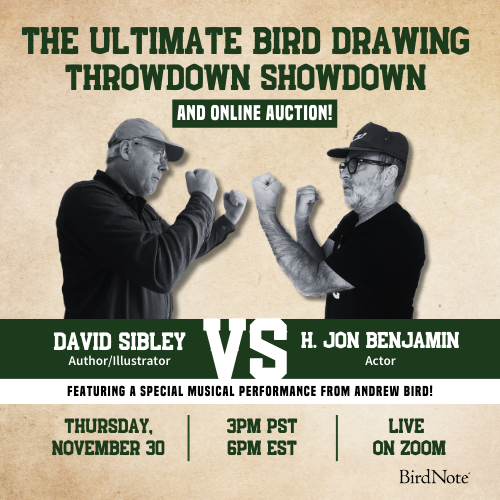 Join BirdNote tomorrow, November 30th!
Illustrator David Sibley and actor H. Jon Benjamin will face off in the bird illustration battle of the century during BirdNote's Year-end Celebration and Auction!
By August, most birds in North America have finished nesting, bringing billions of new birds into the world. So many birds. It might make you wonder: what is the most abundant bird in North America?
BirdNote®  
The Most Abundant Birds in North America
Written by Bob Sundstrom
This is BirdNote.
By August, most birds in North America have finished nesting, bringing billions of new birds into the world. So many birds. But which is the most abundant bird in North America?
[Bird sounds, in a Malheur marsh]
Estimates from the nonprofit Partners in Flight suggest that small birds tend to be the most numerous. Take the Blue-gray Gnatcatcher or the Chipping Sparrow - which both number in the two-hundred-thirty-million range, or the Dark-eyed Junco, at two hundred twenty million.
[Dark-eyed Junco, ML107229 W Hershberger 0:40 - 0:50]
Invasive European Starlings, although they're conspicuous in big flocks, total a mere ninety-three million, and the commonly seen Mourning Dove has declined in numbers to one hundred thirty million.
[Mourning Dove, ML 22930 W Hershberger 0:50 - 1:10]
You might think crows would outnumber the rest, as they're a common fixture of the cities where many of us live. Crow populations are booming, but at twenty eight million, they're not the most plentiful bird, by a long shot.
[American Crow, ML105353 G Keller    1:10 - 1:20]
Any more guesses? Ready to hear the winner?
[American Robin song, ML 94383 W Hershberger 1:20 - 1:45]
It's the American Robin that's taken the lead in recent years. An estimated three hundred seventy million strong and rising, the robin is way out in front.
[American Robin song, ML 94383 W Hershberger 1:20 - 1:45]
For BirdNote, I'm Michael Stein.
                                                              ###
 
Producer: John Kessler
Production Manager: Allison Wilson
Editor: Ashley Ahearn
Producer: Mark Bramhill
Associate Producer: Ellen Blackstone
Bird sounds provided by The Macaulay Library of Natural Sounds at the Cornell Lab of Ornithology, Ithaca, New York. Malheur ambient recorded by GA Budney; includes Marsh Wren, Red-winged Blackbird, Yellow-headed Blackbird, and others. DEJU ML107229 recorded by W Hershberger 0:40 - 0:50. MODO ML 22930 recorded by W Hershberger 0:50 - 1:10. AMCR ML105353 recorded by G Keller, 1:10 - 1:20. AMRO ML 94383 recorded by W Hershberger 1:20 - 1:45.
BirdNote's theme music was composed and played by Nancy Rumbel and John Kessler.
 
© 2021 Tune In to Nature.org    ran August 2019 / August 2023   Narrator: Michael Stein
 
ID#  howmanybirds-01c-2019-8-27      howmanybirds-01c - updated 2020/ Jan. 2021
https://partnersinflight.org/what-we-do/science/databases/