Image: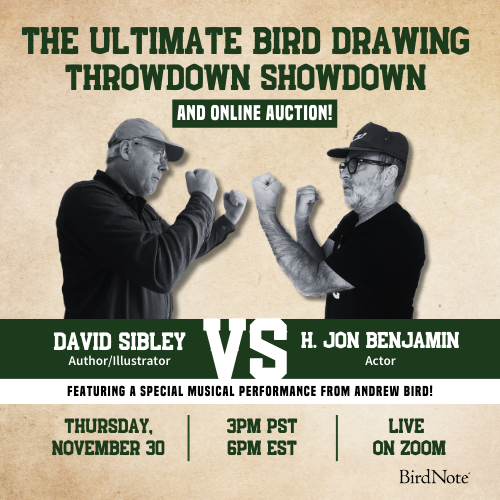 Join BirdNote tomorrow, November 30th!
Illustrator David Sibley and actor H. Jon Benjamin will face off in the bird illustration battle of the century during BirdNote's Year-end Celebration and Auction!
Ospreys nest near water in a tall tree or on a tower, where they're exposed to the elements, including direct sunlight which can sometimes produce scorching temperatures. At other times, they're pounded by rain, as they protect their young. When the storm's over, it's back to feeding those hungry young birds. How do wild creatures withstand such rigors in order to protect and nurture their offspring? While we strive to understand, Ospreys have our profound appreciation.
This page is sponsored by Marc Cordova in honor of Beth Cordova.
Thanks for supporting the new BirdNote.org, coming in 2020!
BirdNote®

Ospreys Weather the Storm

Written by Chris Peterson

This is BirdNote.
[Lapping water and call of juvenile Osprey]
We're at a remote lake in northern Ontario, relaxing, being renewed by nature. Ospreys, large fish-eating hawks, circle about. Yet life for them at this time of year, with the demands of parenthood, is no picnic. Hear their juveniles calling for food?
[Insistent calls of juvenile Osprey]
Ospreys nest near the water in a tall tree where they are exposed to all the elements, including direct sunlight, which can sometimes produce scorching temperatures.
Today, though, a different hardship is brewing…
[Summer storm with lightning]
We've got to take cover! Here! Let's get into this boat shed!
[Extreme pounding of rain!]
Can't you feel the pounding? How do those birds take it? They are so exposed! This storm shower alone must be a good twenty minutes!
[Storm passes]
Ah, the storm has passed. Droplets gleam, then slip, from the leaves.
We can go back to our cabin, curl up with a book.
But the Ospreys? No, it's back to feeding those hungry young.
[Juvenile Osprey]
Join BirdNote on a trip in the Amazon River basin in January 2017, and you might see Ospreys in their winter habitat. Learn more at BirdNote.org. I'm Michael Stein.
[Water lapping and osprey]

###

Call of the juvenile Osprey provided by The Macaulay Library at the Cornell Lab of Ornithology, Ithaca, New York, recorded by G.A. Keller.
Ambient and storm recorded by C. Peterson
Producer: John Kessler
Executive Producer: Chris Peterson
© 2008 - 2016 Tune In to Nature.org   August 2016   Narrator: Michael Stein

ID# OSPR-03-2008-08-05   OSPR-03c