Image: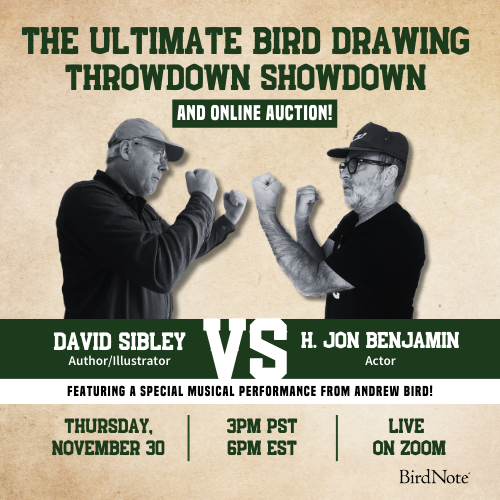 Join BirdNote tomorrow, November 30th!
Illustrator David Sibley and actor H. Jon Benjamin will face off in the bird illustration battle of the century during BirdNote's Year-end Celebration and Auction!
When Adé Ben-Salahuddin stopped to help a trapped young bird on his way home from work, he found an unexpected source of help: an older Black woman walking by who had just the skills for the problem at hand.
BirdNote®
The Robin Rescue
Written by Adé Ben-Salahuddin
This is BirdNote. I'm Adé Ben-Salahuddin, an evolutionary biologist in training.
 
[Bus stopping sound]
 
It was about 8 AM when I stepped off the bus from my overnight summer job, nearly home and ready to sleep. But a sound made me realize I had one more thing to do.
 
[American Robin fledgling alarm call]
 
A young American Robin, still stuck in the chain link fence where I'd seen it 14 hours earlier. I don't normally intervene, but I'd told myself that if the bird was still there in the morning, I'd try to help.
 
Donning gloves, I tried to gently pull the fledgling out, careful to not injure its wings. After a few attempts, the bird still wouldn't budge. As I paused to reassess, an older Black lady approached from up the street. Understanding the problem, she whipped out a purple handkerchief, and in 30 seconds, dislodged the robin and passed it to me.
 
The woman explained how she grew up in the rural South and had always wanted to become a veterinarian, but was dissuaded by her family before life took over. She said how happy she was to see me out there, and as the bird flew away with its mother, she remarked in awe, "God wanted us to meet this morning."
    [American Robin calls]
 
I left with two things when we parted ways: a fond memory, and that purple handkerchief, a torch passed from a generation of Black naturalists who never got their chance.  
    [American Robin calls]
This week is Black Birders Week. To learn how to participate, follow the hashtag Black Birders Week on social media and visit BirdNote dot org.
###
Senior Producer: John Kessler
Producer: Mark Bramhill
Managing Editor: Jazzi Johnson
Managing Producer: Conor Gearin
Content Director: Jonese Franklin
Bird sounds provided by The Macaulay Library of Natural Sounds at the Cornell Lab of Ornithology, Ithaca, New York. American Robin ML463953371 recorded by Robert Beauchamp, and American Robin ML415777801 recorded by Jeff Ellerbusch.
BirdNote's theme was composed and played by Nancy Rumbel and John Kessler.
© 2023 BirdNote May 2023
Narrator: Adé Ben-Salahuddin
ID# AMRO-19-2023-05-29        AMRO-19