Image: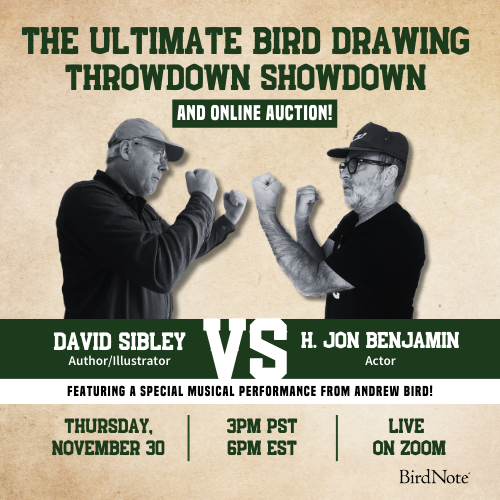 Join BirdNote tomorrow, November 30th!
Illustrator David Sibley and actor H. Jon Benjamin will face off in the bird illustration battle of the century during BirdNote's Year-end Celebration and Auction!
Next time you're in the city, look up. When pigeons are wheeling, you might just see a different bird in pursuit. The Cooper's Hawk, once known as the "chicken hawk," used to be in steep decline due to hunting and the effects of DDT on breeding. Today, it's the most abundant of the bird-eating raptors over much of North America, living even in the city. Males are smaller and often prey on Mourning Doves and other easy pickings at city parks. The bulkier females hunt pigeons, adding a dash of wildness and drama to the modern cityscape — in the form of pigeon feathers falling silently from the sky.
BirdNote®
Urban Cooper's Hawks
Written by Rick Wright
This is BirdNote.
[Traffic sounds]
Cities may have been created by humans, for humans. But nature persists. Next time you're in the city, look up. When the pigeon flocks flash and flare, wheeling with a new urgency, you might just see a different bird — long-tailed and stiff-winged — in pursuit.
[Cooper's Hawk (195709)] 00:07 ff.]
Historically persecuted as "chicken hawks," for many years Cooper's Hawks were in steep decline due to hunting and the effects of DDT on breeding. Today, populations have rebounded to the point that it's now our most abundant bird-eating raptor.
[Cooper's Hawk (195709)]
Male Cooper's Hawks are significantly smaller than the females, and they tend to prey on Mourning Doves, grackles, and other easy pickings at suburban birdfeeders or in city parks and wooded residential areas.
[Cooper's Hawk (195709)]
Their big, bulky mates can easily hunt and kill pigeons, and it's usually female Cooper's Hawks that are seen flapping stiffly through the skies above the concrete jungle.
[Cooper's Hawk (195709)]
These hawks add a dash of wildness and drama to the modern cityscape. Look up, and you'll see evidence of nature's persistence— in the form of pigeon feathers falling silently from the sky.
For BirdNote, I'm Michael Stein.
###
Bird sounds provided by The Macaulay Library of Natural Sounds at the Cornell Lab of Ornithology, Ithaca, New York. Cooper's Hawk [195709] by Bob McGuire.
BirdNote's theme music was composed and played by Nancy Rumbel and John Kessler.
Producer: John Kessler
Executive Producer: Sallie Bodie
© 2017 Tune In to Nature.org    June 2017/2021 November 2023   
Narrator: Michael Stein

ID#  COHA-02-2017-06-15    COHA-02