Image: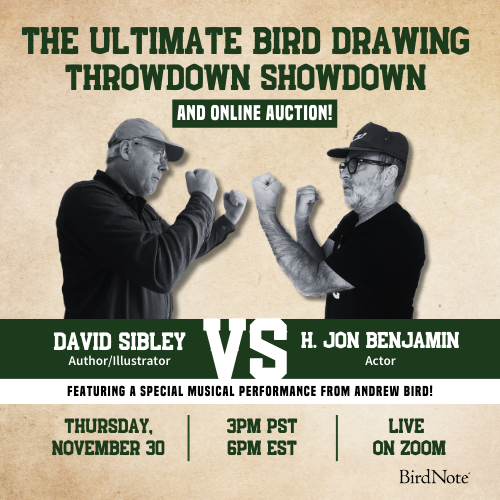 Join BirdNote tomorrow, November 30th!
Illustrator David Sibley and actor H. Jon Benjamin will face off in the bird illustration battle of the century during BirdNote's Year-end Celebration and Auction!
The Anna's Hummingbird is the only hummer that stays in the Northwest and West for the winter. How did this lovely jewel get its name? Anna's Hummingbird was named for Princess Anna de Belle Massena. John James Audubon himself was charmed by her, but it was actually naturalist René Primevère Lesson who named the bird in her honor.
This page is sponsored by WaterJenn in memory of Meg Morris.
Thanks for supporting the new BirdNote.org, coming in 2020!
BirdNote®
Who Was Anna?
Adapted from a story by Frances Wood

    This is BirdNote.
    [Buzzing of Anna's Hummingbird, the sound heard in fall]
    The Anna's Hummingbird is the only hummingbird that stays through the winter in the West and Northwest.
[More buzzing]
This tiny hummingbird sports a bronzy-green back and pale gray belly, all washed in green. When direct sunlight catches the throat and head feathers of the male, an iridescent flash of brilliant rosy-red gleams from the bird.
Evidently, the "Anna" after whom this hummingbird was named was as lovely as the bird. The French Princess Anna de Belle Massena was married to Prince Victor Massena, an amateur ornithologist who had an impressive collection of bird specimens. Perhaps it was this collection that first attracted John James Audubon to the prince and princess. But it was Anna herself who charmed Audubon when he visited them in Paris. He described her as a "beautiful young woman, not more than twenty, extremely graceful and polite." She was also admired by naturalist René-Primevère Lesson, and he's the man who honored Anna by naming the hummingbird after her.
Hummingbirds are found only in the Americas, so it's unlikely that Princess Anna ever saw one on the wing. Nevertheless, her beauty remains immortalized in the name of this little green gem, the Anna's Hummingbird.
    [Repeat buzzing.]
    You can catch sight of one on our website, BirdNote.org.
I'm Michael Stein.

###

Bird sounds provided by The Macaulay Library of Natural Sounds at the Cornell Lab of Ornithology, Ithaca, New York. 6121 recorded by David G. Allen, 6122 recorded by Charles A. Sutherland.
Musical selection from Vaughn Williams' Violin and Piano, Spurn Point.
Producer: John Kessler
Executive Producer: Sallie Bodie
© 2016 Tune In to Nature.org     December 2016           Narrator: Michael Stein

ID#102405ANHU  ANHU-02b