Image: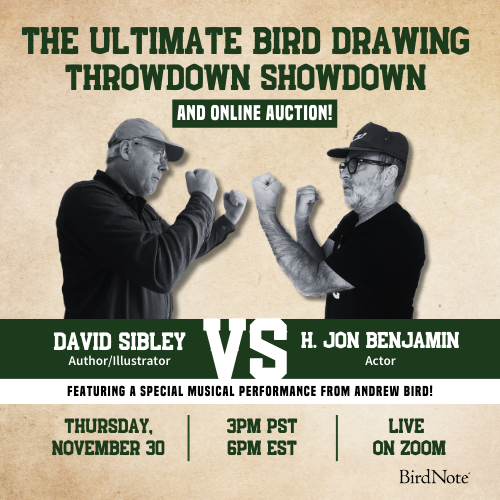 Join BirdNote tomorrow, November 30th!
Illustrator David Sibley and actor H. Jon Benjamin will face off in the bird illustration battle of the century during BirdNote's Year-end Celebration and Auction!
Image:

In the season four premiere, we're joined by wildlife advocate, ornithologist and (social media star) birder, Corina Newsome! Tenijah speaks with Corina about the latest findings in the State of the Birds report, the impact of environmental racism on urban communities and birds, and the uber important 2023 Farm Bill. Plus, they get into the weeds about why a zero-sum mentality could be to blame for a lack of progress on addressing climate change (hats off to Heather McGhee). Press play!
Want more Bring Birds Back? Follow us on Instagram! For more BirdNote, subscribe to our weekly newsletter. For ad-free listening and other perks, sign up for BirdNote+ here.
BirdNote is a nonprofit. Your tax-deductible gift makes these shows possible.
Bring Birds Back Season 4 is sponsored by the Cornell Lab of Ornithology.
[BirdNote Presents]
Tenijah Hamilton: From BirdNote, this is Bring Birds Back. I'm Tenijah Hamilton.
[Coffee Shop Guitar Music Starts]
[Coffee shop ambience fades in]
If you and I were sitting across from one another, having some coffee, sharing a morning muffin or something, I'd imagine a part of our conversation would go a little like this (clears throat):
First, I'd say, "It's so nice to meet up again, friend. It's been a minute!" We'd chit-chat a little, and maybe you'd wanna know what I've been up to between seasons. Well, I met some Egrets on the Georgia Coast, saw a Varied Thrush and some Fox Sparrows out in Seattle at a nature preserve and I spotted a gorgeous pair of Northern Cardinals in my front yard hitting Mariah Carey whistle notes.
Perhaps you'd wonder if I graduated from Bird Girl in Training — I mean, am I a tried and true Bird Girl now?
You know, I'm getting there! I've of course been taking joy in my new bird friends — but also in the way curiosity has bloomed in my life, and in the lives of those around me. I mean, I woke up at 2am the other night to my husband groggily using the Merlin app to ID the hooting of a Barred Owl. So, I would say I'm "Bird Girl-Ish" and I think that's a great place to be here in Season 4 of Bring Birds Back.
[Coffee Shop scene fades]
[Upbeat, bouncy music starts]
Per usual, we're talking all things birds. And with listeners like you in mind — from different backgrounds and communities — we have a slightly different focus this season: the human impact. Which is the ways in which we, as Homo sapiens, are affecting the lives of our feathered friends. We're also challenging zero-sum mentalities — the idea that, for some people or species to win, another group would have to lose. And that just isn't the case.
You may remember our very first episode was about a study in the journal Science from 2019. It revealed a loss of nearly 3 billion birds in just 50 years in the U.S. and Canada alone.
Now, we're talking about the latest discoveries published in the "State of the Birds 2022" report. In it, they warn us that about 70 bird species are at a "tipping point" and have already lost 2/3rds of their populations. These species are predicted to lose another half of their numbers over the next 50 years.
There are many ways to look at this issue, and today we're looking through the lens of environmental racism, and the ways in which this plays out in the political arena from redlining to plain old neglect. But let's not get too far ahead of ourselves.
Joining us to talk about how to bring birds back and all the hairy-scary-feathery factors around that is my friend, the incredibly gifted and wildly funny Corina Newsome.
[Upbeat bouncy music ends]
Tenijah Hamilton: I've been waiting for this moment for three seasons.
Corina Newsome: I just am so grateful to like, have the chance to even speak with you.
Tenijah Hamilton: Oh my God. Ditto. So obviously I know you. And you are Corina Newsome. Hi. Happy to have you. But tell the audience a little bit about you, if they don't know you. Introduce yourself.
Corina Newsome: So I am a wildlife biologist. I currently work at the National Wildlife Federation as the Associate Conservation Scientist.
Most of the work that I do now, uh, focuses primarily on integrating environmental justice into conservation policy, science, and practice in different ways. Um, some of which focuses on climate change, some of which focuses on state agency wildlife work. And my background, though, is in bird biology or ornithology, which is why BirdNote is such a special podcast to me.
Birds are not only what I study and what I enjoy to learn about. They're also this really beautiful, dynamic, you know, everywhere vehicle to connect myself and my neighbors and the people in my family and the people I'm around with the world around them. And to kind of open up the world a little more than maybe it was before they knew about birds. And so that's kind of me.
I thank God on a regular basis that he allowed us to be on the same planet as birds.
Tenijah Hamilton: That is so wholesome.
So I wanna go back to thinking about what you do now at the National Wildlife Federation, which is an organization known as a leader in conservation and environmental education. Can you share more about what you do and how you got into that work?
Corina Newsome: Yeah, so it's actually kind of interesting. A lot of what I do right now focuses on working with state wildlife agencies and state agencies are essentially the public agencies that manage wildlife in every state.
They're there to serve people– the people who live in that state, right? But unfortunately, like, the leadership among state wildlife agencies is pretty much all white. Like, I went to a conference with like 2000 people. There were max, five non-white people there. Like the lack of diversity is alarming.
And so my work in National Wildlife Federation recently has been working with state wildlife agencies, you know, helping them to think about, you know, in their conservation planning and the work that follows. How can you engage the full diversity of people who live in your state, which is not just like the right thing to do, it's your job to do it. They pay you to do it, you know what I mean? Through their taxes. And, you know, really, you know, drawing on Indigenous knowledge and thinking about principles that Indigenous peoples have used for community engagement and have, have advised on. Um, so working with state agencies in that way.
And another major portion of my work is, like, trying to help build a coalition. A diverse coalition. A young coalition of people who are aware of legislation that impacts them that is supposed to provide resources to their community, and making sure that they know about it, that they can share their support and gather their communities in support if they, of course, support it. And if they don't, expressing why.
But I still, you know, connect with my community and I live in southwest Atlanta. I'm working with my community around connecting with birds. Of course, doing bird walks, as I always do. And, you know, thinking about how can we get people involved in stewarding the ecology where they are, in the way that they want to?
Tenijah Hamilton: I mean, you got so many things going on and watching it all kind of work in sync with one another is I think how we're starting to see change.
And I love that you're talking about, you know, especially when it comes to youth, I don't think a lot of us, especially those who are from communities that have been marginalized, know that we have a place in these processes. Know that we have a place in science or nature or legislation. And here you are showing folks.
Corina Newsome: And you know what's so wild?
Basically, there was some legislation that they're thinking about pushing through Congress that has to do with wildlife.
And, you know, just being part of the team that I'm on at National Wildlife Federation, I was part of the people who were reviewing this legislative text. Here's an opportunity to like, put in money to address the vulnerability that Black and Brown communities, in particular, and low wealth communities are facing. You know, even though it may not have been front of mind and it's like, if I didn't see that, would that have been said?
You know what I mean?
Tenijah Hamilton: Mm-hmm.
Corina Newsome: The reason why we need people from everywhere and from these places and communities is so that we can catch that and make sure that we get what we need at these, you know, federal levels, state levels, everything.
Tenijah Hamilton: Mm-hmm. Mm-hmm. And it's such important work. So, good. So we have a good grounding in like, what your day-to-day work looks like and also what your hobbies look like. And they all look like birds.
Corina Newsome: Right.
You went to Georgia Southern, where you received your master's of science after studying avian conservation. So what about bird conservation in particular do you think is so important to the world today?
Corina Newsome: You know, birds are a really special group of wildlife because many of them are migratory and that means that they connect places.
It means that they require healthy places to exist across states, across countries, across hemispheres, right? And I think this was kind of stirred by my friend Tykee James, who I believe you also know.
Tenijah Hamilton: Yes! We love Tykee.
Corina Newsome: Uh, he and others, they kind of coined this phrase that birds are a multiplier or can be a multiplier for environmental justice.
Which means that if we are actually trying to ensure birds survive into the future, especially migratory birds, we have to make sure that not only are the big state parks, federal lands have healthy ecosystems and are suitable. We have to make sure that the little stopover city parks that they use along the way to get from north to south and back again are healthy.
And those are the places where a lot of us live, right? Like urban centers, right? Where there's a lot of Black and Brown folks who are experiencing really intense environmental issues like pollution or degrading infrastructure when it comes to, like, sewage and water management, right? And so we have to think about environmental justice if we are going to do bird conservation properly. But also looking at birds specifically, like, they're miraculous things.
If I hold a bird in my hand, right? It almost feels like I'm not holding much of anything. I could hold, you know, like an owl or something on my hand and I would barely feel anything, right?
Like, they're so lightweight, right?
Tenijah Hamilton: Mm-hmm. Mm-hmm.
Corina Newsome: But at the same time, they pack - somehow - incredible amounts of possibility and power and capability in their bodies, right? So you have this little, you know, like a little hummingbird or a small warbler, right? If you'd never seen a warbler before or a bird and you said, what can this thing do? What can it accomplish? I can guarantee that a person would not mention any of the incredible feats that they can do, right?
A hummingbird flying over the Gulf of Mexico? That's basically a bug. You know what I'm saying?
Tenijah Hamilton: It's so small. It's so small.
Corina Newsome: And it's like, it– it's almost like an impossibility.
Tenijah Hamilton: Yeah.
Corina Newsome: And for that reason, I'm just like, every time my hope feels drained, you know — the little brown thrush in the bush or you know, in the forest floor somewhere. I see it. You know, someone else who maybe is not a birder or someone who pays attention to birds may be like, oh, a little brown bird. But I'm thinking about the journey that that individual just made that seems impossible. And I'm like, you know what? It does something for me.
Tenijah Hamilton: I got this. I got this.
Corina Newsome: Right. No, literally. You know, like things maybe that seem impossible — maybe they're not impossible, right? And that's on a personal level, you know, humanity level. They just really do that for me.
So, um, yeah. That, that's why birds– that's why I gotta study 'em.
[Jaunty but serious music starts]
Tenijah Hamilton: Part of the reason that we really wanted to speak with Corina today was to dive a bit deeper into the 2022 State of the Birds report and various findings in the study. The report went into great detail about how and why the number of birds in America's grasslands has declined by a third in the last 50 years.
Corina Newsome: Grassland birds are some of the most imperiled birds because those ecosystems are some of the most imperiled ecosystems. In places like Hawaii, which has so many endemic birds, or birds that are only found there, are seeing, I mean, just devastating declines. Right.
But the interesting thing that it did was that it kind of highlighted where we're seeing declines and where we're seeing increases. Where are we seeing wins, right? And, and one of the things that it points out is that waterfowl, like, so you know, your ducks, you know, primarily, they saw increases, right, when other birds were seeing decreases.
And, you know, you ask why is that the case? Well, it's because people cared very much about ducks. They wanted to hunt ducks, so they made sure they spent money, they spent time ensuring that the habitats they needed and the environments they needed existed.
And so because there was intention behind their conservation, they increased and they're doing well, many of them.
Places where we saw a disinvestment or a lack of protection or stewardship of ecosystems, we saw the birds in those places decline. And so it can be another example of something that feels like it's stripping hope from me to see those numbers and just — I mean, how steep some of these declines are.
It just shows that like, when people invest in it and when we care, they can come back, 'cause they have, and we've seen that over and over again. And so we just now — now that we can see, specifically where we're seeing declines, which species are in decline, we have to create targeted efforts that address the concerns, ecosystem by ecosystem. Species, sometimes, by species, right? If necessary.
And it is possible. So it kind of provided this combination of where we're at, where we can go based on what we've done in the past when we address the issues.
And then the beautiful thing that it did was that it tied in environmental justice.
When the environmental concerns of marginalized communities are addressed, birds come back, too.
[Music stops]
Um, there is one particular example in California where this community was experiencing flooding. The infrastructure was not there to help. You know, like the flood plans they needed — the infrastructure was not there to protect them. Once they finally got the resources they need to create the ecosystem that would protect the community, the birds came back. The flycatchers. Like they were seeing birds they hadn't seen in so long in that place because their environmental issue was addressed. And so it really just showed how these are not different things.
Like in my opinion, one of the most detrimental choices that conservation has made has been to separate people from nature.
We are part of the ecosystem and if we try to solve problems as though people are somehow floating in outer space, separate from the ecosystem, we can't even do conservation well. Like even if that's all you care about, you can't even do it well, if you're treating people as separate or uninvolved, and not prioritizing them.
And so it — the report, I think, does a really beautiful job of painting an accurate picture, a sobering picture, but one that is also full of hope and integration when it comes to how we can address some of these really urgent problems for birds.
Tenijah Hamilton: Thank you so much for contextualizing that for us. There's a lot that sticks out to me.
There are obviously many reasons, some of which you've already spoke about, known and unknown, as to why this steady decline is happening, right?
Obviously we have climate change. But that encompasses, in itself, so many different topics and points of concerns that the real issue seems to be the lack of action on climate change. And that can really push us forward as far as conservation goes. I wanna bring RAWA back up, which is Recovering America's Wildlife Act, and I know it passed in the House, but it has yet to pass in the Senate, correct?
Corina Newsome: So it passed in the House last Congress, but we didn't have enough runway left, essentially, in that Congress to continue it down the path. So now we have to start over. But the good news is that everyone is rearing to go and it's fast paced now.
Tenijah Hamilton: And ready. Please tell us more about the act and why you're championing it at this time.
Corina Newsome: So Recovering America's Wildlife Act is one of the most important monetary investments in wildlife conservation in many, many decades. And so you may have heard of the Endangered Species Act, which is there to provide resources to keep species from going extinct once they've hit this threshold of, like, being categorized as endangered, right?
But once a species gets there, it costs so much money to do anything successful to get them back. It's a very taxing process. What we need to do is keep species from getting to that point.
So Recovering America's Wildlife Act invests in species conservation before they get endangered. And there's about 12,000, uh, wildlife species that fall in that category across the US. And so this bill would provide 1.3 billion a year — billion with a B, um—
Tenijah Hamilton: Billion with a B.
Corina Newsome: for conservation of species.
And the reason why this is so critical, so number one, because it is kind of like, investing almost a hundred million dollars, like 97 and a half million per year for tribal nation conservation.
There's never been federal dedicated funding for tribes for their conservation ever. And this will be the first time that it's happened.
Tenijah Hamilton: Wow.
Corina Newsome: Right. A hundred million a year for hundreds of recognized tribes — hundreds of tribes, recognized or not, by the federal government across the US. It's not enough, but it is a start.
Most of the rest of the money will go to state agencies to do their conservation work. It will be a problem if they do the same thing they've always done when it comes to engaging their constituents, right?
So the reason why I believe it's important not just for the bill to get passed, but for like a lot of Black and Brown folks to be aware of and engaged with and knowing about this bill is because when it passes, that money needs to go to our communities. We have to see that. And so I want people to be able to put pressure on their state agencies and tap in.
They shouldn't have to, but we have been ignored.
Tenijah Hamilton: Right. Absolutely.
Corina Newsome: You know what I mean? So that's why this bill matters a lot to me. And I believe, I believe we will get it done this Congress.
Tenijah Hamilton: After the break, you'll learn all about "Drained Pool Politics," what that means and why we think it - and the 2023 Farmers Bill - is important in the fight for climate change and environmental justice. Then, Corina details how the makeup of your local neighborhood contributes to - or hinders - the survival of birds. Stay tuned!
[Midroll]
[Blues-ey guitar music starts]
Tenijah Hamilton: One theory has gained attention and support in recent years that speaks to all of these things — the state of birds, ecologically neglected urban areas, and even the lack of movement for RAWA in Congress — it's called Drained Pool Politics. It was coined by writer Heather McGhee in her acclaimed book, The Sum of Us. Essentially, McGhee connects the legislative hesitation on conservation and climate change to a zero sum mentality of "them" vs "us"— through the lens of racism, specifically.
The name "Drained Pool Politics" comes from the civil rights era in the United States when, instead of integrating pools, some white communities opted to drain their pools of water. This created a zero sum outcome, depriving everybody of refuge from the summer heat. McGhee argues that this is precisely what's happening in America — and why there has been little movement forward in over 3 decades of climate activism.
I asked Corina her thoughts on the theory and if she saw this play out in her own work.
Corina Newsome: It's one of the most powerful kind of realizations, you know, I've seen and that I've been able to learn from, right? So we're talking about climate change. We're talking about the planet, the literal thing that's keeping everyone alive, right? Like, you would think that there would be like a, 'Oh — you know, like maybe they couldn't get it with a pool and like with civil rights, but maybe they'll get it with the Earth that they're living on,' right?
[Music ends]
Corina Newsome: There's a lot I don't know, but one of the things that I've paid attention to and that feels like a stark example — the Farm Bill, which exists to provide resources to farmers. Credit, like, loans, financial resources, technical assistance, right? For just the production of agriculture and, you know, ensuring that like any particular farmer doesn't go under if they can tap into these resources. That bill has like violently excluded Black people and then there are so many cascading impacts that have, that have —
Tenijah Hamilton: Oh wow.
Corina Newsome: that have come from that. Entities within the supply chain, right? Like people purposefully letting Black people's crops rot in a storage facility instead of taking them to where they're supposed to go, right? So we see this discrimination happening even outside of the actual policy world, right? Like there's so much farmland on this continent that we need farmers to be using ecologically healthy processes when they're doing agricultural production. We need these places to be habitable for birds, other wildlife, right? Because it takes up so much space. And you know, not to mention, like, things like runoff and the pollution that it creates in the communities that live immediately next to these farms or even far downstream.
Tenijah Hamilton: Yeah.
Corina Newsome: They have cut Black farmers out of the conservation finances, too. The conservation resources, like when the government has made sure to allocate resources for the purpose of ensuring that agriculture is done in a conservation and wildlife and ecosystem friendly way, Black farmers haven't even been able to get to that resource.
Black farmers and land owned by Black people impacts white people, impacts everybody. So like—
Tenijah Hamilton: Absolutely.
Corina Newsome: For, like, the health of everyone, we need as many landowners who are doing agriculture to be doing it in a way that is as ecologically healthy as possible.
So why would you ever make it hard for anybody to get resources to do that, right? But they repeatedly and systemically keep Black people from getting those resources, right? And so, like, to me, and there are countless examples of the way the government has done this across different dimensions.
But like the Farm Bill piece is huge. And so that's why there's actually, and I wanted to, um, note this, there's a bill called Justice for Black Farmers Act that's, like, trying to get passed through Congress too. 'Cause this is the Farm Bill year. They're renewing the Farm Bill. And so they're trying to kind of embed equity and, and environmental justice into it now how much harm it's caused Black farmers in the past.
So yeah, that's probably one of the most stark examples that comes to mind.
And I think it'll be another omnibus situation where it'll be a part of a larger set of bills, but that'll be important to pass so that they are not able to repeat the same harms. Or at least it'll be harder for them to do that.
Tenijah Hamilton: The idea that folks would rather not only passively, like not include folks of color, especially Black folks in things, but to actively kind of prevent them from getting money and the resources that they need to make it happen is not surprising. But every time it just, it feels like cold water to the face.
Corina Newsome: It's like, you need this to survive. And it's like they bought the narrative of, you know, to keep money and power where it was with like, you know, this very small percentage of people, like making people feel like something of theirs will be compromised if someone else has anything, is able to survive, like you suddenly won't. That's a lie. And it hurts every dimension of our existence. Not just ecologically, you know, every way. In every way.
Tenijah Hamilton: And I know you mentioned that like you don't know everything about this bill and that's perfectly fine. But I'm curious if there are actions that you think that everyday people can take to support this legislation, or at the very least, learn more. What would you recommend?
Corina Newsome: What is always important is that when there's legislation that's either up for a vote or has been introduced or will be introduced, whoever your senators are and your representatives are for where you live, it actually is really important to call their office and tell them to support the passage of the Justice for Black Farmers Act.
Literally, when you call like, their staff have to take note of what you've said, where you're from, who you are, right? And that goes to your senator or representative.
Because their job is to reflect the desires of their constituents, which they don't always do, obviously, but you telling them that kind of puts that responsibility on them.
Tenijah Hamilton: You mentioned that conservation through the scope of social justice is really important as well, and I wanna talk more about that.
Just talk us through more about why they need to merge and why you need to look at conservation in this way.
Corina Newsome: We have very limited time and very limited resources to address a lot of the ecological emergencies that we are experiencing, right? Like, as a result, we have to steward the resources wisely that we have to address environmental concerns. And if you're not addressing the needs of people along with the needs of wildlife, which, in many ways are the same thing, 'cause we use the same water, we breathe the same air, we walk on the same soil, you are not gonna be successful, right?
And I believe that mapping is a really powerful tool for helping people to visualize how these things are connected. There's actually a really cool tool called The Blueprint. And it's this map that you can like, kind of put a diversity of different variables as a layer on this map.
So you can see, for example, places where habitat connectivity is really important or places where you can invest to make sure that there is connected habitat across, you know, the Southeast or Georgia. But it's a publicly available map, so you can also add other publicly available maps, such as the Justice 40 initiative where they map across the US where communities are vulnerable, are disadvantaged. And they have a diversity of variables that categorize a community that way.
So it can be climate change vulnerability, vulnerability to pollution, air and water, housing, employment. When you put those two maps on top of each other, for example, in Georgia, which I did just to see how it showed up.
And so using these maps, you can be like, 'oh wow, okay, so southwest Atlanta in Adams Park is a really important connectivity resource, and it's also one of the lowest income or most vulnerable communities in Atlanta. Let's invest there'. I was taught to think about them separately, academically.
Like, I only learned that because of Black professionals that I happened to come across, basically, like, on Twitter and online, that kind of showed me a different way. And I came from those communities. I was literally living in the midst of air pollution and water pollution. But I had to be shown.
Tenijah Hamilton: I'm curious about how important community is and has been in your conservation advocacy journey.
And a lot of people ask us on the show and ask me, like, how do I know who to listen to? How do I find folks? I would love to hear your take on that and your take on just its importance to find community that can anchor you while you do this work.
Corina Newsome: Oh, yeah. It's so important and I think I was very lucky that — well, I guess we all are, that social media exists and is a way that we can connect. And that happened to be the way that I connected kind of, early on. But I had another kind of dimension of community building physically where I am, in southwest Atlanta — I was a community engagement manager at Georgia Audubon. And so through my work, I got connected with my neighbors in a very unique way, who are Black. A lot of them are elders.
And they continue to teach me so much about how these things are connected. I'm just literally listening to them pour wisdom into my ears. And it is amazing.
I'm like, every biologist that works in the state needs to be hearing what you're saying. Every biologist, anywhere you are, needs to be listening to the wisdom of your communities. For example, if you don't mind just one quick example.
Tenijah Hamilton: Please.
Corina Newsome: So, Ms. Corliss, I love her. She's amazing. Dynamite Black woman in Adams Park in Atlanta. So we were talking about, you know, ecology and just, just life and, you know. And she was like, um, invasive species management is an environmental justice issue. She's like in her seventies. And I'm like, tell me more! She's a gardener, right? Has lived in that area for a long time. She said, if you drive down Delowe Drive, which is a street by where we are, and you see these towering pine trees, right— and it's beautiful. They fill the neighborhood. So you have houses just in the middle of these huge, beautiful, trees.
And if you pay attention, if you look closely, you'll see that so many of these trees have English ivy and kudzu growing up them, right? Those are both invasive species. What's happening is that those vines are killing the tree. And southwest Atlanta is also a pretty low income area. And so those trees should be taken down.
That costs thousands of dollars to do. They are literally a hazard. The trees that have invasive species crawling up them are towering over people's houses, are just waiting to fall down. So, people are stuck between two options: Get the tree cut down–
Tenijah Hamilton: For thousands of dollars, yeah.
Corina Newsome: – or the tree falls on your house and is literally a risk to your life, obviously your property, right? But it is the job of the managers who are paying in this state to be thinking about invasive species management. But when they're not incorporating social justice, like who is most economically disadvantaged here, they're missing this whole environmental threat.
English ivy is literally crawling all over southwest Atlanta, but there's no strategy around how to deal with it. Like the city, the state has not addressed it, right? And it's an environmental justice, social justice, environmental issue. And so I continually learn about how these things are the same thing and why we have to be thinking about multiple dimensions of how people are vulnerable, not just wildlife and solving them together because they are — they're the same.
Tenijah Hamilton: Shout out to Ms. Corliss because there needs to be a seat at the table for those conversations.
Corina Newsome: Yeah. And when you have, like, invasive species taking over a place like, the plants that birds need are no longer there.
The plants that host the bugs that birds require to feed their offspring so they can survive through the breeding season and produce chicks– they're gone. Like, so this now makes this place unlivable, uninhabitable for birds. They can't reproduce here, but they need this place, right. So it's just, it's all the same thing. Yeah.
Tenijah Hamilton: Hmm, recently — and as we think more about, like, the effects of climate change – we had a conversation with Bill McKibben.
Corina Newsome: Oh, yeah.
Tenijah Hamilton: Who is an … environmentalist. He's been around for a very long time and he's one of the leading forefathers of global warming literature. And he's made it very clear throughout his life's work that people should be working alongside nature to benefit the world.
But I definitely think his perspective now, like, you know, hope wavers. And I'm curious for you, what is your hope for the future of conservation and how do you maintain that? Maintain your kind of, your hope, your joy, your optimism where it comes to taking on the challenges that are in front of us?
[Playful, hopeful music starts]
Corina Newsome: I think a lot of my hope does come from the fact that there are such wise people like Ms. Corliss who have been working for decades to rally their communities around stewarding their ecosystem where they live, right?
Even if the city, the state, the federal government does not care about them, they are committed to using what they have to create the most beautiful environment possible, right? The more that people are bringing the whole of themselves and their communities to the work, the efforts become more holistic and integrated as they literally have to be.
Like when you're paying attention to the local work that's happening, you see wins like on a more regular basis than if you're looking at the federal government, lord have mercy. If that's the only place I was looking, I would have nothing for you, right?
And yeah, I think the power is in community, it's in culture, it's in our connection with one another and the connection with the place where we are.
Tenijah Hamilton: You mentioned that people tend to see themselves as separate from nature, and that seems like one of the biggest roadblocks in dealing with climate change. So what advice would you offer to people young and old, who feel like they don't have a relationship with nature as it stands, or their relationship feels strained or they're nature apprehensive?
That's me. What's your advice?
Corina Newsome: I find that when people take a moment to notice the details of another, you know, form of life, it's the beginning of a relationship.
And I literally tell myself, okay, you're going to look at this living thing for 30 seconds. Just to notice it, just to be aware of the details, whether it's a plant, and I'm looking, you know, I'm noticing, oh wow, there's this like, cool ombre gradient on the pedal, right?
Or like, it's a caterpillar crawling up a tree, or it's a Song Sparrow, like on the bush singing, right? Like, I'm choosing to look at it for 30 seconds, right? To just allow myself to take it in.
And so I would encourage people to start there and start, you know, just physically where you are.
And then the second thing is to find someone who is confident or who is maybe where you would like to be, right? When it comes to comfort in nature or, or knowledge about nature, whatever it might be of the nature that you are a part of, okay.
And, you know, as you pay attention, you start to notice the cycles that happen, you know, on an annual basis. Like in the spring, certain things happen. In the summer, in the fall and the winter, and like, when you see the cycles, it's like, suddenly you– you notice how you are part of it. 'Cause you are, and you, you respond to those same cycles and you can kind of see where you fit in next to the caterpillar and the flower and the Song Sparrow in these cycles.
And the more you can do that with the people where you are, man, that just creates the most beautiful way of life to me. And you could be in rural, you know, Arkansas, or you can be in an urban Northeast city somewhere. Either way, like it, it really does make all the difference.
[Uplifting, reflective music starts]
Tenijah Hamilton: Corina, I could listen to you forever.
Corina Newsome: Stop!
Tenijah Hamilton: You speak with, like, such passion and conviction, but also just like, it is just clear that this is all joyful for you. And I feel like that's not a given. Like it's not a given that the work you do is gonna motivate you and bring you joy and bring you happiness and give other people joy and happiness.
And I'm so excited for this episode because I think you are going to spark that for so many folks who are listening.
Corina Newsome: Man, I'm gonna have to journal after this. I'm just grateful that you have chosen to curate this platform in a way that really brings the knowledge that we need to hear to the ears of the people who need to hear it. So, thank you Tenijah. You're brilliant.
Tenijah Hamilton: Thank you. You are brilliant. And we're brilliant together. I appreciate you so much.
Corina Newsome: [Laughs]
Tenijah Hamilton: This episode was completely eye-opening for me in ways that I hadn't expected. Could the answer to our climate change disaster be equality, equity and justice? Maybe! But the truth is that we will never know unless we look at these issues from all possible angles — and actually attempt to fix them. I'm thankful for the opportunity to brush the surface of this topic with Corina Newsome — and I hope you enjoyed it too!
To keep up with Corina and her work both inside and outside of the National Wildlife Federation, we have links to her Instagram and Twitter on our website, BirdNote.org. You can also find what's happening with The RAWA Act, The Farm Bill and many more resources from this episode there too.
And don't forget to connect with us - your favorite friendly bird lovers - on Instagram @BringBirdsBack. Follow us for show updates, exclusive behind-the-scenes content and more!
Bring Birds Back is produced by Mark Bramhill, Sam Johnson and me, Tenijah Hamilton. Our fact-checker is Conor Gearin. Our Managing Editor is Jazzi Johnson and our Content Director is Jonese Franklin.
Music is by Cosmo Sheldrake and Blue Dot Sessions.
[Music begins to fade]
Tenijah Hamilton: So, we are trying this new game called Bird Association — you know like, bird/word association — you get it. Essentially, I have a couple of rapid fire questions for you.
Corina Newsome: Oh, okay.
Tenijah Hamilton: I'm gonna throw a couple things at you. You let me know what comes to mind and um, we'll, we'll see what you think.
Corina Newsome: Okay!
Tenijah Hamilton: So my first one — what bird are you afraid of losing? Thinking about like an endangered species. Who do — like, who's on the top of your list have to like, get in there and protect?
Corina Newsome: Wow. Um, Seaside Sparrows actually, which is the bird that I study. I just happen to know the most about them. They live on the coast. Sea level rise is literally like actively creeping up onto where they live and breed and you can just see it happening and it makes me sad.
And so that is one species that I — would be sad to lose. And I've cried a tear. I've cried a tear. Um, but we will, we will save that species.
Tenijah Hamilton: I believe you. Give me your favorite bird song and your favorite song by a person. Your favorite person song, right now.
Corina Newsome: Okay. So my favorite bird song is the Wood Thrush. I think it will always be the Wood Thrush. It's such a melodic and sounds like a flute in the forest and it echoes all nice.
Tenijah Hamilton: Let, let me hear you try.
Corina Newsome: Doot-doot-do-do-doooo. [laughing] That's the best I can do.
Tenijah Hamilton: I love it. I love that. I love that.
Corina Newsome: Shoot. Um, My favorite song, by contrast, it's hard to pick, but I would say "Press" by Cardi B.
Tenijah Hamilton: "Press" is a good one. Um, okay. Okay. And last one, what are you– what are you taking in right now? What's your favorite? Like what, what are you watching? TV, movies. Like what, what's, what's in Corina's kind of world?
Corina Newsome: Interesting. So there's a show called Extraordinary Attorney Woo. It's a Korean show. And it's about a lawyer who has autism. And it is one of the most incredible shows I've ever seen. I highly recommend you watch it. And number two, I'm sorry, I'm saying two: RRR is the greatest film.
Tenijah Hamilton: No, I saw you tweet about that and I was like, 'oh, okay'.
Corina Newsome: It is three hours and I wish it was seven hours long. That's how good.
Tenijah Hamilton: Oh my gosh, I love this. This has yielded some very quality, uh, content. I got bird songs, I got movie recommendations. Like, I'm so excited.
Corina Newsome: Oh man. That was good. That was good.
About guest Corina Newsome:
Born and raised in Philadelphia, Pennsylvania, Corina Newsome is a wildlife biologist dedicated to the integration of environmental justice and conservation science, policy, and practice. Corina earned her bachelor's degree in zoo and wildlife biology from Malone University and, after several years as an animal care professional, went on to earn her master's degree in biology from Georgia Southern University. With a specific passion for avian conservation, Corina's research focuses on answering landscape ecology questions that help us better understand how we can help birds thrive in a changing world. Corina's fascination with birds extends beyond her research and into the communities where she lives and works, serving as beautiful vehicles through which she connects herself and others to the world around them. In addition to her work as a wildlife scientist, Corina is committed to increasing the representation and visibility of Black science professionals for the next generation of STEM experts, and centering the leadership and perspectives of Black, Indigenous, and communities of color in wildlife conservation, environmental education, and exploration of the natural world.