Image: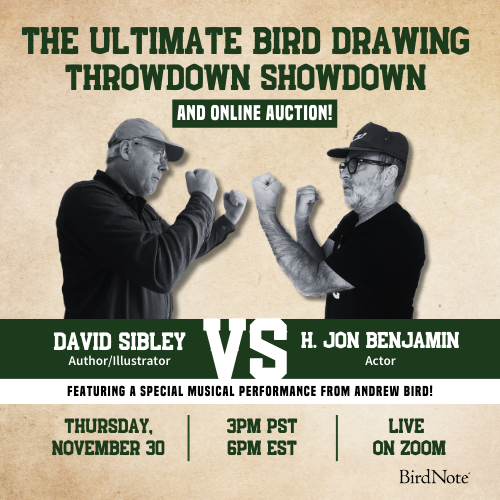 Join BirdNote tomorrow, November 30th!
Illustrator David Sibley and actor H. Jon Benjamin will face off in the bird illustration battle of the century during BirdNote's Year-end Celebration and Auction!
This week's episode of Sound Escapes takes us to Pipestone Canyon in Eastern Washington, where you can hear a ridgetop wind come from a mile away. Here, you can not only listen to coyotes in the distance, but also how the coyote waves as it passes through the canyon: a form of dimensional information that Gordon Hempton calls, "The poetics of space." 
Let's take a listen… 
Gordon Hempton: BirdNote Presents.
      [Ambient Drone Music Plays]
You're listening to Sound Escapes. I'm Gordon Hempton, the Sound Tracker.
In this episode, we'll listen to the poetics of space at Pipestone Canyon in eastern Washington State.
When I was a bike messenger in downtown Seattle, uh, something which taught me a lot about staying alive by listening, Pipestone Canyon was my oasis from all the urban din and construction activity.
I would go to Pipestone Canyon to simply listen and enjoy the live concert.
The canyon is an extension of the listener's ear because it's possible to listen to ridgetop wind come from miles away. And of course the wind subsides and the dawn is tremendously still. So still that you can hear the flutter of wings for distances of more than a hundred yards.
In listening to Pipestone Canyon you'll notice that as we hear the animals, for instance, the coyotes that introduced this piece, that we don't just hear coyotes, but we hear the coyote wave as it passes through Pipestone Canyon and it gives us dimensional information — what I lovingly call the poetics of space.
Let's listen...
      [Music Fades]
---
      [Soundscape of Pipestone Canyon]
---
Gordon Hempton: You've been listening to the sounds of Pipestone Canyon in Washington State.
      [Ambient Drone Music Plays]
Sound Escapes is produced by Mark Bramhill and John Kessler. Ashley Ahearn is our editor. Be sure to check out our website, BirdNote.org, to see photos.
This podcast is made possible by Jim and Birte Falconer of Seattle.
In our next episode, we'll visit Voyageurs National Park in Northern Minnesota, just in time to witness the performance of a pair of Common Loons.
I'm Gordon Hempton. I hope you'll join me.
      [Music Fades]