Image: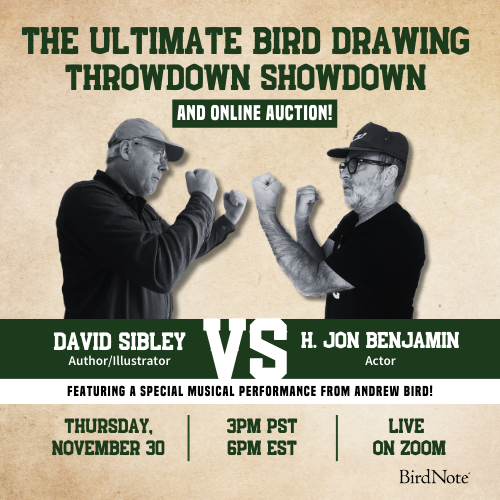 Join BirdNote tomorrow, November 30th!
Illustrator David Sibley and actor H. Jon Benjamin will face off in the bird illustration battle of the century during BirdNote's Year-end Celebration and Auction!
The feathers of a bird are, for their weight, among the strongest structures in the world. The bones of this Magnificent Frigatebird weigh less than its feathers! To further reduce weight while maintaining strength, many bird bones are fused. In addition, the pectoral and pelvic girdles and ribs are joined to make a rigid box that supports those long wings, just as the wings support the bird.
Did you know that you can listen to BirdNote as a podcast whenever you want? You'll even get some extended episodes we can't fit on the radio. Get even more birds in your life. Just search for "BirdNote" in your podcast app.
BirdNote®
Bird in Flight, Strong but Light
Written by Dennis Paulson
This is BirdNote!

[Glaucous-winged Gull calls]

Look at that gull drifting across the sky. It seems to move through the air without effort. How does it stay aloft and fly so easily?
Natural adaptations have given it a strong yet lightweight body. And, for their weight, its feathers are among the strongest structures in the world. But aren't a bird's bones, like ours, heavy? Let's take a closer look.

 [Scream of a Red-tailed Hawk] That Red-tailed Hawk circling overhead has hollow bones strengthened by struts — light but strong. The bones of frigatebirds, masters of the air, weigh less than their feathers! To further reduce weight while maintaining essential strength, many bird bones are fused. For example, a bird's hand and fingers are made up of only six bones. In addition, the ribs of a bird are joined to other bones to make a rigid box that supports those long wings, just as the wings support the bird. And finally, the bird just wouldn't fly that well, if not for the streamlining provided by its sleek feather coat.

With its body thus supremely adapted for the air, the Arctic Tern — one of the "super stars" of migration — [Arctic Tern calls] can travel across thousands of miles of open ocean each year in effortless flight.

Learn more about birds, when you visit BirdNote.org.  I'm Mary McCann.

Did you know that you can listen to BirdNote as a podcast whenever you want? You'll even get some extended episodes we can't fit on the radio. Get even more birds in your life. Just search for "BirdNote" in your podcast app.
###

Bird audio provided by The Macaulay Library of Natural Sounds at the Cornell Lab of Ornithology, Ithaca, New York.  
Glaucous-winged Gull recorded by G.M. Bell.  Red-tailed Hawk recorded L.J. Peyton.  Arctic Tern recorded by G.A. Keller.
BirdNote's theme music was composed and played by Nancy Rumbel and John Kessler.
Producer:  John Kessler
© 2013 Tune In to Nature.org      September 2013 / 2017 / 2020 / 2022    Narrator: Mary McCann
ID# 091206flightKPLU    flight-04b
http://www.birds.cornell.edu/AllAboutBirds/studying/feathers/