Image: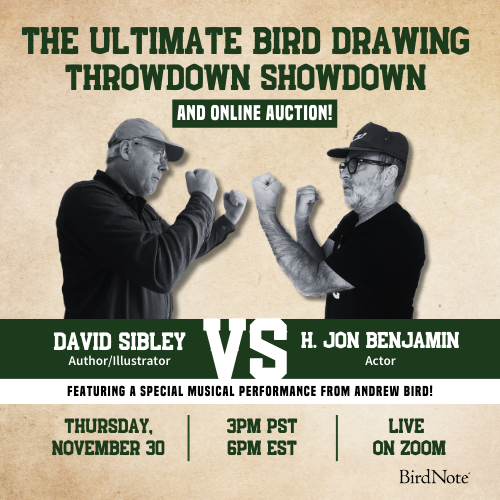 Join BirdNote tomorrow, November 30th!
Illustrator David Sibley and actor H. Jon Benjamin will face off in the bird illustration battle of the century during BirdNote's Year-end Celebration and Auction!
Birds, while guided by instinct, seem able to adapt to specific situations. Martin Muller is an expert on waterbirds called Pied-billed Grebes. One spring day, on an urban lake in Seattle, Martin observed a pair of grebes switching roles in order to protect their young and defend their territory. After the male was injured, he brooded the young while the female foraged for food for the family. She even took on the male's usual territorial defense duties! In these birds, the roles are sort of defined, but under exceptional circumstances, they can be adjusted.
BirdNote®

Martin Muller Observes a Pair of Pied-billed Grebes Change Roles

Interview by John Kessler and story by Chris Peterson

 This is BirdNote!
    [Calls of Pied-billed Grebes in city setting]
    Birds, while guided by instinct, seem able to adapt to specific situations. One spring day, on an urban lake in Seattle, Martin Muller, an expert on waterbirds called Pied-billed Grebes, observed a pair of grebes switching roles in order to protect their young and defend their territory….
"One year, we had a male, who, just after the eggs hatched, got entangled. He got a fish hook in his leg and a large chunk of fishing line. And it was splashing around in the shallows and I set him free, but he was wounded…This is six o'clock in the morning on a Sunday and I figure if I take this bird to a vet, then the young are not going to survive for sure because the female can't both keep the young warm and feed them at the same time, so I left the male out there.  And instead of going out swimming and providing food, the male sat on the nest and kept the young warm and the female did a lot of the food provisioning. ….So the neighboring males immediately started intruding on the territory to test … you know… is this male gone? Do I have a chance at another female? … The female partner of the injured male took on a lot of his territorial defense duties. So, in these birds …the roles are sort of defined, but under exceptional circumstances, they can be adjusted. And that was just fascinating to watch!"

    [Calls of Pied-billed Grebes]

    As Martin says, "There's always more to learn." You can find a link to his definitive research on Pied-billed Grebes, at our website, birdnote.org.
   
                                        ###
Feature sounds of the Pied-billed Grebe provided by The Macaulay Library of Natural Sounds at the Cornell Lab of Ornithology, Ithaca, New York; 166676 recorded by J. McGowan and 105421 by G.A. Keller.
Recording of Martin Muller and Pied-billed Grebes onsite, by John Kessler.
Producer: John Kessler
Executive Producer: Chris Peterson
© 2014 Tune In to Nature.org   August 2018 / 2020  Narrator: Mary McCann

ID#           PBGR-mullerm-01-2012-08-11    PBGR-mullerm-01