Image: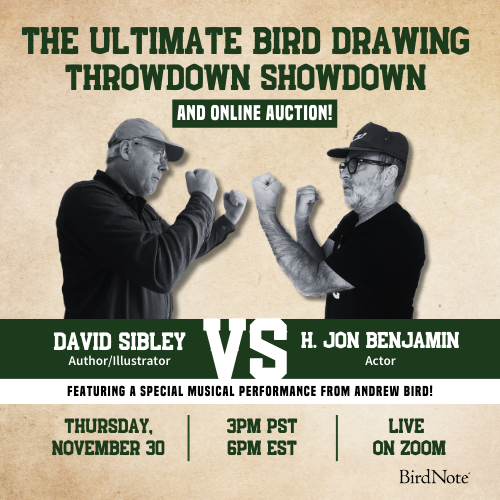 Join BirdNote tomorrow, November 30th!
Illustrator David Sibley and actor H. Jon Benjamin will face off in the bird illustration battle of the century during BirdNote's Year-end Celebration and Auction!
Image:
Artificial intelligence is all the rage these days – for better or for worse. Luckily, in the case of our feathered friends, it's good news! In this episode, Tenijah speaks with three experts (starting with Garry George and Katie Umekubo) about the great environmental gains of wind energy – and their unfortunate contribution to the decline of birds. But all hope is not lost – in fact, there's an exciting solution already underway! Susan Downey introduces us to Identiflight, an A.I.-assisted technology that not only assesses potential harm to birds, but also prevents it… to a degree. Tune in.
Want more Bring Birds Back? Follow us on Instagram! For more BirdNote, subscribe to our weekly newsletter. For ad-free listening and other perks, sign up for BirdNote+ here.
BirdNote is a nonprofit. Your tax-deductible gift makes these shows possible.
Bring Birds Back Season 4 is sponsored by the Cornell Lab of Ornithology.
[BirdNote presents]
[Hopeful, calming music fades in]
Tenijah Hamilton: From BirdNote, this is Bring Birds Back. I'm Tenijah Hamilton.
In our undying quest to bring birds back, it's become pretty clear that this task begins with saving planet Earth. One approach in particular is swapping out harmful energy sources (like coal, oil, and natural gas) for green energy (like solar, water and wind).
While these energy sources provide great alternatives, they're not without their own challenges. Today, we're discussing wind energy — and its… specific impact on birds— like Bald and Golden Eagles. The question is can we build a new, green world without adding to the decline of vulnerable birds?
We're gonna chat with three folks today who dare to dream that the answer is yes— with an asterisk! And at the center of this answer? A buzz-y topic these days: artificial intelligence.
I can't wait to introduce you to Katie and Garry — they kinda have the coolest jobs in the world, furthering green energy initiatives — and also Susan who works on this AI-assisted technology called Identiflight.
[Music fades]
Here is where I'm gonna shake the table a little bit, so to speak, so hold onto your hats so I can stop mixing my metaphors:
Wind farms, at this date and time, are undeniably dangerous for birds.
Garry George: Turbines do kill birds. Birds can fly into them. Those blades are spinning really fast.
Tenijah Hamilton: Garry George is the director of the Clean Energy Initiative for the National Audubon Society, working to expand renewable energy – while also protecting birds. Part of his job includes reviewing and expediting permits and policies for green energy projects, like wind farms.
Wind energy is created by harnessing power through wind by way of windmills or wind turbines. Turbines use propeller-like rotor blades to trigger a generator, which then produces electricity. In scale, turbines are huge and they're only getting bigger; and bigger means more power. On average, US turbines stand at about 450 feet tall. But the largest to date? 919 feet– in Denmark! That's over three times the height of the Statue of Liberty! Still, we do not know (as of yet) if size plays a factor in bird mortality rates.
Garry George: Every year somewhere between 500,000 and a million birds are killed.
Tenijah Hamilton: That's a lot of birds! It's not as many as from window collisions, which is measured in the hundreds of millions, or cats, which is measured in the billions. (All these numbers are for the US, by the way.) But still, a serious impact. At the same time, the anticipated effects of climate change would be way more devastating than any other threat. Scientists at Audubon released a study in 2019 where they looked at 600 species of birds in North America, and modeled three different climate change scenarios.
Garry George: And what our team found was that at three degrees, we would probably lose 389 of those species completely because their wintering or they're breeding habitat in the north would no longer be suitable. They'd have to move from it and these species couldn't find more suitable habitat. That was alarming and uh, it really galvanized a lot of us to think, well, this is why we need that clean energy and why we need it so fast.
Tenijah Hamilton: And to have a shot at meeting any of our climate goals, we need wind to be a part of that. That's where Katie Umekubo comes in. She's the Director of the Lands Division at the Natural Resources Defense Council or NRDC. Katie's job is to advocate for sensible strategy and laws that address development issues with green energy projects on public lands in the US.
Katie Umekubo: It's important to admit right away and upfront wind energy projects pose a unique threat or impact on avian species and particularly certain species.
And that's simply due to the fact that there are really big moving components that are taking up a large fixed airspace that birds just aren't necessarily used to seeing.
It's different than buildings, for example, because turbines spin and also occur outside urban high density development areas. Especially the large scale wind projects that we're looking to to meet our climate goals.
To get to our targets for decarbonizing our economy NRDC's own estimates call for needing to build 40 gigawatts of wind energy per year for the next decade. Put another way: we expect wind energy capacity to more than double by 2027 and then to double again by 2030.
Tenijah Hamilton: And so it's only fitting that Garry and Katie have a long history of working together. They both have kind of an odd job in the world of environmentalism: they're advocating for a massive increase in the number of wind farms... but only if they're developed responsibly to minimize the impact on birds.
Katie Umekubo: What I would say is it's just a necessary dichotomy. We have to find the right balance and we don't really have the luxury of getting it wrong on either front. We need to ambitiously plow towards decarbonizing our economy to combat climate change and we also need to throw ourselves in front of stopping the growing extinction crisis and the biodiversity crisis that is happening simultaneously. And so I think one of the important things to know is it also isn't a zero sum game, right?
[Bouncy, thoughtful music starts]
Garry George: There's lots of ways to have conservation and clean energy go hand in hand. You can make it happen.
Tenijah Hamilton: If we're going to make wind farms safer for birds, where should we start?
Katie Umekubo: The siting of it.
Garry George: Where it's put is probably the most important.
Tenijah Hamilton: Maybe not the most exciting thing, but choosing a good location for a wind farm can have the biggest impact.
Katie Umekubo: 'Cause it's one of the best opportunities to make good decisions about avoiding impacts to birds and other wildlife in their habitat, before those impacts have even occurred.
Tenijah Hamilton: This is an opportunity to look for areas that would have a small impact on wildlife — and identify spots where developers shouldn't even consider building.
Katie Umekubo: For example, it's kind of a, a no-brainer in my mind to focus on already degraded lands or kind of the least sensitive areas when we're talking about habitat values or wildlife values and to try to push all of the development to those places first, before we're getting into other areas.
And, and we also need, on the flip side, to choose areas and lands that we just don't think are appropriate for wind development and potentially any other kind of development, because the risk could be too high for what types of, you know, impacts could have on different bird species or other species and the ecosystem in general.
[Music fades out]
Tenijah Hamilton: All kinds of birds are susceptible to colliding with a wind turbine — but Garry and Katie say the focus should be on rare and endangered birds — where the turbines could threaten a species, not just individual birds. A lot of attention has been given to California Condors and Golden Eagles, and not just because of their small population sizes. A lot of these bigger raptors are more at risk.
Garry George: They are drawn to areas that have uplifting winds that they can soar on. 'Cause if you notice, with eagles and condors, you hardly ever see them actually flap their wings. They're mostly gliding on air currents, right? And those are the same air currents that wind projects work on. Golden Eagles have a special anatomy in that they have these brows, so when they're looking down, they really can't see in front of them as well. So if they're looking down for prey on the ground, which is where they find their prey, they probably won't see a turbine if it's right in front of them.
And that's generally true for a lot of other raptors. So they are more vulnerable.
Tenijah Hamilton: But the good news? There are laws that protect these at-risk birds.
Garry George: The Bald and Gold Eagle Protection Act from the forties.
The Endangered Species Act from the seventies.
The Migratory Bird Treaty Act from 1918 from people who loved birds, because at the time, there was a big desire for feathers from egrets and herons, especially for women's hats. And it was decimating the populations of egrets and herons.
And so folks from Audubon and other organizations got together and passed laws one after another until they got to a Migratory Bird Treaty Act that would protect migratory birds. And it was all because of one industry that was, you know, harming so many birds.
So that's the importance of those laws: the government can prosecute if there's egregious wrongdoing.
Tenijah Hamilton: And back in 2013, the government did just that, in a way that would lead to something pretty surprising. The U.S District Court in Wyoming charged Duke Energy Renewables for the deaths of 14 Golden Eagles and 149 other protected birds killed on their Wyoming wind farm. The government fined them $1 million dollars and sentenced them to 5 years of probation to comply with the Migratory Bird Treaty Act. They also required the company to donate to conservation programs and find alternate ways to make up for these deaths. Following the sentencing, someone at Duke Energy had a unique idea and made an unusual phone call to a company called Boulder Imaging.
[Playful music starts]
Susan Downey: So Boulder Imaging started as a super high speed inline inspection system.
Tenijah Hamilton: This is Susan Downey of Boulder Imaging.
Susan Downey: One of our first clients was with ceiling tiles and floor tiles, as they're being produced and they're going through on the assembly line, there could be like a color splotch or a crack or something like that. And then before we came in, it would get to the end of the line. They would say, ah, there's a blue drop on every single one of these. They'd have to toss 'em all.
Tenijah Hamilton: And what Boulder Imaging makes — and I promise this is going to come back to birds in a second — is a fancy computer camera system that watches products go by on the assembly line and is trained to detect any imperfections.
Susan Downey: And so now we go through and we can look at all of these ceiling tiles to make sure they are to specification, and it's very fast. These things are flying by. Um, and then we do that also with money. We currently look at all of the paper that the US money is printed on before it goes to get dyed. So all the security features, we look at that and then all that paper gets sent to, uh, the treasury to get printed on.
Tenijah Hamilton: This is when Boulder's CEO gets a call from Duke Energy, asking: this technology you have — a computer that can identify in real-time things like the size of a crack, or fine variations in color —
Susan Downey: Would you be able to do this with birds? And our founder, Carlos Jorquera, said yes! Partly because he doesn't know how to say no, and partly he loves a challenge, and this was something that had never been invented, never been thought of, never done.
Tenijah Hamilton: So they develop this project at Duke Energy's Wyoming wind farm. They call it "IdentiFlight." And incredibly, adapting their existing technology to identify specific birds... works.
Susan Downey: Essentially it's the same baseline technology that Boulder Imaging has. So in the bird world, we're looking for head color, different markings, how birds hold their wings, color of feet. You know, Bald Eagles are easy. White tail, white head. We're looking for very specific field marks which was similar to looking at very specific flaws in ceiling tiles and floor tiles.
Tenijah Hamilton: With IdentiFlight, Duke Energy saw an 82% reduction in the death of Golden Eagles. 82%!!! The technology is now used on wind farms not just across the US, but around the world.
[Music ends]
So, if you could break this down for me because, you know, it's really interesting. I'm listening to you talk and I completely understand kind of how you got here, and I understand the idea of what IdentiFlight does and how it works. But what are, kind of, the mechanics? So where are the cameras and how does the whole process work?
Susan Downey: We have a system up on a pole and it can be anywhere from three meters, 10 feet to up to 40 meters. On that pole, is a system that has eight wide field of view cameras that look at 360 degrees. And those eight cameras are stationary and they are looking for anything that moves whether it be a bird, a truck, a person, wind turbines, anything that moves.
And what we do is we have trained it to ignore anything that's not a bird. So we have trained it to know what a bird looks like, how a bird flies. So, for example, a turbine blade going through the field of view would be very regular. And that's not a bird. Birds are random. And once it determines that it's a bird, it sends that information to a central computer at each wind farm, and it determines, 'Oh, that is a Bald Eagle. We need to watch it.' And then as that Bald Eagle comes in, we look for: how close is it to the turbines? How fast is it flying? We look at its velocity. How is it acting? So is it just soaring? Cause — eagles play in the wind turbines. They're up and they're playing in the wakes and doing all this. And then they'll see a bunny and stop paying attention to the wind turbines. And then that's when they get hit. Or if they're fighting, that's another time that's dangerous and so we have the ability to change how quickly we send a command to shut down the turbine. So once we determine that this bird is in danger, either because it's flying straight toward us or it's doing weird maneuvers, we then can shut it down.
Tenijah Hamilton: After the break, we're talking incredible bird stories from the towers, potential loopholes that Identiflight may bring, and how you can get proactive about protecting birds from wind farms. Stick around.
[Midroll]
Tenijah Hamilton: When it comes to stopping a turbine, how does that actually work?
Susan Downey: It's super easy. The blades just feather. So, it turns the blades into the wind. So instead of catching the wind with the flat side, it turns the blade so the skinny side faces the wind, and then there's nothing pushing on the turbine. So it uses the wind to slow itself down. So, when we send a signal to curtail - to stop - it will feather the blades against the wind, and then the wind will slow it down. And then they'll feather 'em back and the wind will pick it up. And that's what starts it. So there's really no energy loss other than not producing energy, of stopping a turbine.
Tenijah Hamilton: Wow. Technology's really cool.
Susan Downey: I know. Isn't that amazing? It's really cool.
Tenijah Hamilton: Um, you were saying before that eagles like to play in the turbines? They what??
Susan Downey: Yes. It is amazing. So they are so agile and intelligent. They know what they're doing. They just get distracted by squirrels, sticks, snakes. We have some amazing footage of a eagle flying with a snake in its talons, the snake comes up and bites the eagle. Then the eagle has to fight the snake.
Okay, now the eagle is completely distracted and has no idea — he's paying attention to the snake, not where he is going. Luckily, we had curtailed for that bird so it could go through and have its little snake fight as it went through the wind farm. It's incredible what we see. Yeah, it's absolutely amazing.
Tenijah Hamilton: You know, early on in, uh, my Bring Birds Back journey, I think one of the things that always stuck with me was — somebody telling me that you really have to kind of anthropomorphize the birds. And really, kind of, seek out like the human storylines. And listening to you describe this snake fight and the turbines — and I'm just like, this is drama, this is intrigue. This makes for — you know, and, and you're doing conservation work, which is so important, but there's also this kind of sense of, wow, I'm watching something incredible happen right here, like nature TV.
Susan Downey: It's wonderful. And we have a lot of eyes on our data and we're sharing these pictures up, down, all around. It's– it's eagle fights, hawk fights. I have an image of a White-tailed Eagle, which is gigantic, with a little teeny raven, which is also a very big bird, right next to it. And yeah, we come up with lots of stories of what's happening with all of our different birds out there.
[Laid-back lo-fi music starts]
Tenijah Hamilton: This is all really fascinating. And when you talk about the system and training the system, are you describing the parameters of the computer or are you doing machine learning on a large library of footage of birds? How exactly do you kind of teach them those things that you're talking about?
Susan Downey: What we will do is we'll put some of our systems out there and then just watch everything that flies and take images of everything that flies. We'll come back and then we will, the first time around, go through all of those images and put them into species classification.
All right. This is a black vulture. This is a bearded vulture. And we will collect millions of images of these birds. And then with that, we can put that into our neural net, um, and create a neural network that knows the difference between a bearded vulture and a black vulture and now we've fed it millions of examples of what this bird looks like. And so it can narrow it down much better. And, and what that does is it makes sure that we don't have as many false positives, meaning we aren't stopping the turbine for say a common buzzard in Europe.
Instead, we are stopping 'em for red kites. In the United States, we stop it for bald eagles and golden eagles, but not for turkey vultures. So that makes me a little sad. But it's a balance. It's a balance between: we've gotta make energy, and we can do that by protecting the most critical birds.
[Music fades]
Tenijah Hamilton: And Susan acknowledges that IdentiFlight could be used by unscrupulous developers to greenwash problematic wind farm sitings — to use it as an excuse for not doing the work.
Susan Downey: Because we don't have any control over where they're gonna build the wind farms and we are the best option to save these birds. I mean, there are places that wind farms shouldn't be. And if you have an endangered or threatened species, that might not be the best place for a wind farm. Um, this happened, there was a wind farm - and it might be is - a wind farm proposal in Brazil, like the only place that these blue macaws live. Why would you put a wind farm there? Since it was gonna go in anyway, if we didn't put our bid in, that wasn't gonna make any difference on the Wind farm.
Tenijah Hamilton: It's kinda like, yeah, loss mitigation at that point.
Susan Downey: Yes. I mean that is, that is one of the main things we wanna do, is: we want to avoid deaths and then minimize deaths. Those are the two biggest things that we can do while keeping wind energy going.
Tenijah Hamilton: I know that the flip side of that is IdentiFlight could be deployed at existing wind farms that maybe didn't do the best job in picking a location. So is this the biggest opportunity for where IdentiFlight can make a difference?
Susan Downey: One of the many. We did that in Wyoming. And that was how we got into Wyoming, was that they were under federal indictment and we have reduced eagle fatalities by like 85% at this one wind farm, which is so cool.
Another way we can help is as you build your wind farm, put IdentiFlight in and keep the takes slow from the very get-go. So we have done both, we have gone in at the same time as a wind farm is being built and have been there from the inception of the wind farm.
And we've gone into many existing wind farms to reduce the danger to eagles and protected birds and that is a big one. So yeah, and we can go in on any kind of terrain, cliffs, mountains, trees, we can work around all of that to help make sure the wind turbines that are there are gonna be safer for the birds.
[Contemplative lo-fi music starts]
Tenijah Hamilton: Identiflight is a super promising technology. But we can't just hope that wind developers will, out of the goodness of their hearts, adopt Identiflight and take precautions to protect birds. We need ways to ensure developers are being proactive about birds, and thinking about wildlife from day one.
Duke Energy wasn't the last company to get fined by the federal government. In 2022, ESI Energy Inc. was charged by the Justice Department's Environment and Natural Resources Division for killing at least 150 Bald and Golden Eagles since 2012, spanning 50 out of 154 of their wind farms nationwide. ESI was given a 5-year probation plus additional requirements and permits, and had to pay $8 million dollars in fines.
[Music fades]
Tenijah Hamilton: Do you think that fines like this will motivate energy companies to adopt preventative measures, like Identiflight? Just thinking about the need for them to be a little bit more proactive with biologists during the siting processes.
Garry George: That is a great question.
Tenijah Hamilton: Garry George.
Tenijah Hamilton: Yeah. Is that the million dollar question or the $8 million question? That—
Garry George: That's the $50 million question.
Tenijah Hamilton: Okay.
Garry George: One of the things about that company was that they never got eagle permits from the Fish and Wildlife Service. They didn't think they had to. And we protested that several times. But now they have to go back as part of the settlement, and they have to get permits, which means they have to offset the take of all those eagles that they've taken over those years and taken meaning that they've killed.
And in the population, they have to replace those eagles with new eagles or prevent other eagles from being killed that would normally be killed at power lines or other ways.
Tenijah Hamilton: Got it. So it seems like this is really substantive. It's not just like a slap on a wrist. It seems like it's causing some real change then.
Garry George: Absolutely. And that's why we use that law. That prosecution was under the Migratory Bird Treaty Act and the Bald and Golden Eagle Protection Act. And that's why Audubon fights hard to keep those laws active and to keep those permits available to the clean energy industry so that they can be accountable for endangered or protected species that they may harm.
Tenijah Hamilton: It seems like once the government steps in, really big and important things can happen, which we know is a good thing, but it seems like a lot of developers aren't being proactive. So how do we make sure that energy developers have siting and preventative measures for birds and wildlife in mind from day one?
Katie Umekubo: I think, well–
Tenijah Hamilton: Katie Umekubo.
Katie Umekubo: The way we can try to get responsible siting and advanced technologies like IdentiFlight become the default for all projects is actually using these regulatory processes and making sure that we're clearly and effectively inserting these as requirements into the wildlife permitting process.
The agencies can require these things before any permits are issued, before projects are developed, and really before any approval processes occur. And I think that is the way to ensure that we're really making responsible siting decisions on wind energy projects.
And so, specifically the Migratory Bird Treaty Act, there hasn't been an actual permitting program or authorization program in place. There's just been provisions that don't allow the take of birds listed under the Migratory Bird Treaty Act.
What the administration is looking at now is setting up an authorization program or system that could tell, not just wind energy developers, but other types of industries, the types of best management practices and other types of conservation actions could be addressed on the front end, and then they'd be authorized as long as they followed those rules.
With the Bald and Golden Eagle Protection Act, there already is an incidental take permitting program in place, and they're looking at revisions to it right now. So we've had that in place and the service is trying to kind of update and take another look at those provisions.
Tenijah Hamilton: I'm curious about what can our audience do? People who are listening to you speak about this and who care deeply and are fired up, frankly, what can they do to help get involved in this issue?
Garry George: I think the most important thing is to engage, if you can, locally. The — what we're finding now is that the opposition is very well organized against wind and solar on the local levels. Some of it funded by the fossil fuel industry or coal industry. And we see a lot of opposition, and it would be very helpful for folks, to be able to sort out the real science from some of the claims in the opposition, especially regarding birds. 'Cause they use birds all the time on opposition. And you can also talk to your board of supervisors, your planning people. See if you can get a planning process in your region, your county or your area, your state, and say, okay, let's figure out the best places and then put the other places off the table, even before it gets to the council meetings or the, or the community meetings. I think that's something that everybody could do.
Katie Umekubo: Get out there and participate in the public processes, both for bird conservation, for individual species, for different habitats, but also participate in the processes for renewable energy development projects as well as larger policies that are happening, whether it's state or federal.
And just to make your voice heard, particularly on these hard choices that we're talking about today, right? Or where we're trying to strike the right balance. You can ask questions, you can demand that there's science backing up the decisions that we're coming to and that we're making and just make sure that we're trying to do the best that we can and make the best decisions we can on these issues.
But I think that by all coming together and participating and bringing our minds together to figure it out, we're so much better off. There's no way that we'll get this right without the active and robust engagement of the public, you know?
[Outro music starts]
Tenijah Hamilton: And that's it for this time. Thank you to our avian avengers, Garry George, Katie Umekubo and Susan Downey. I have certainly learned so much throughout this process and I hope that you all did too!
For more information on our guests today, or to learn more about wind farms and Identiflight, please visit our website BirdNote.org.
And don't forget to follow us @BringBirdsBack on Instagram for show updates, exclusive behind-the-scenes content and more.
Bring Birds Back is produced by Mark Bramhil, Sam Johnson and me, Tenijah Hamilton. Our fact-checker is Conor Gearin. Our Managing Editor is Jazzi Johnson and our Content Director is Jonese Franklin. Special thanks to Viki Merrick.
Music is by Cosmo Sheldrake and Blue Dot Sessions.
[Music begins to fade]
About guest Garry George:
Garry George is Director of the Clean Energy Initiative of the Climate strategy of National Audubon Society. His team engages on siting and operation of clean energy – onshore and offshore wind, solar, storage, and transmission with the Audubon Network of 27 state offices, 465 chapters and 36 nature centers with the goal of 100% environmentally responsible clean energy. He also collaborates with the clean energy industry and federal and state wildlife agencies on individual utility-scale projects on public and private lands. He represents Audubon on collaborations with industry including Renewable Energy Wildlife Institute the Avian Solar Work Group, the Steering Committee of the Regional Wildlife Science Collaborative for offshore wind and the Energy Committee of the Association of Fish & Wildlife Agencies. When not spending time with his 10-year-old grandson Garry goes birding around the world adding to his world list of over 7,600 species seen out of the 10,000+ species in the world.
About guest Katie Umekubo:
Katie Umekubo is the Lands Division Director in NRDC's Nature Program. Her recent work has focused on avian protection policies and collaborative efforts surrounding renewable energy siting and deployment. Prior to joining NRDC, Katie worked as a legislative specialist for the U.S. Fish and Wildlife Service. She received her undergraduate degree and MPA in environmental science and policy from Columbia University and a JD from the University of Colorado Law School.
About guest Susan Downey:
Susan Downey is responsible for avian species identification and classification for IdentiFlight installations around the world. She is a founder and board member of IdentiFlight parent company, Boulder Imaging. Susan's experience with high performance imaging includes roles at NASA's Jet Propulsion Laboratory and Ball Aerospace. She is an avid birder and travels the world adding new species to her life list!