Image: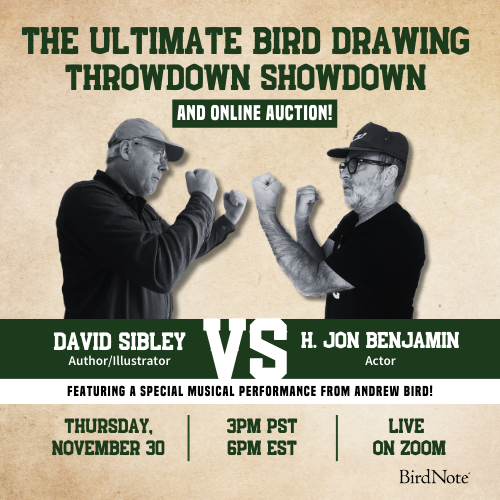 Join BirdNote tomorrow, November 30th!
Illustrator David Sibley and actor H. Jon Benjamin will face off in the bird illustration battle of the century during BirdNote's Year-end Celebration and Auction!
After a long winter in northern Minnesota, everything seems to awaken at once. From the songs of migratory birds to the croaks of frogs and toads, we can witness a wonderful rejuvenation.
In this episode of Sound Escapes, paddle a canoe through Voyageurs National Park alongside Gordon Hempton, the Sound Tracker. We'll hear the hauntingly beautiful duet of a pair of Common Loons — and learn why Gordon refers to cold water lakes as "magic amphitheaters." 
Let's listen… 
Gordon Hempton: BirdNote Presents.
[Ambient Music Plays]
You're listening to Sound Escapes. I'm Gordon Hempton, the Sound Tracker. 
In this episode you'll hear sounds I recorded at Voyageurs National Park in Northern Minnesota as everything awakens at once after a long frozen winter.
Lakes, and especially cold water lakes are magic amphitheaters: any sound that enters the perimeter of a Lake easily travels across it. And Minnesota, the land of 10,000 lakes, is just filled with incredible concert halls and in particular, Voyageurs National Park.
It's a place where it's easier to travel with a canoe than to walk by foot. And the canoe, and particularly the song of the paddle, is magic to listen to. Every soft, quiet stroke and the swirls of water that pass. The way you can see the bow of the canoe and the ripples that pass outward, providing these perfect models on what sound would look like if we could see it. 
 Animals in early spring are just awakening and they awaken so fast too. It's amazing. The migratory birds, the emergence of the frogs and the toads croaking and trilling. And the American bittern.
[A few Bittern Sounds]
But my favorite sound, and I only knew this after I heard it, was the arrival of loons. I happened to be told, before I arrive, the story of how they mate for life, and then the two of them duet together. Not an entirely true story, but still, I wanted to hear what they have to tell each other. 
[Loon Call]
It was full of commitment, full of inspiration, full of optimism. It was so convincing to me that, if that is what marriage is about, I want a marriage like that.
[Loon Call]
Let's listen…
[Music Fades]
---
[Soundscape of Voyageurs National Park]
---

Gordon Hempton: You've been listening to the sounds of Voyageurs National Park in Northern Minnesota.
    [Ambient Music Plays]
Sound Escapes is produced by Mark Bramhill and John Kessler. Ashley Ahearn is our editor. Be sure to check out our website, BirdNote.org, to see photos.
This podcast is made possible by Jim and Birte Falconer of Seattle.
In our next episode, we'll stay in the Midwest, and visit the childhood haunts of Mark Twain.
I'm Gordon Hempton. I hope you'll join me.
[Music Fades]