Image: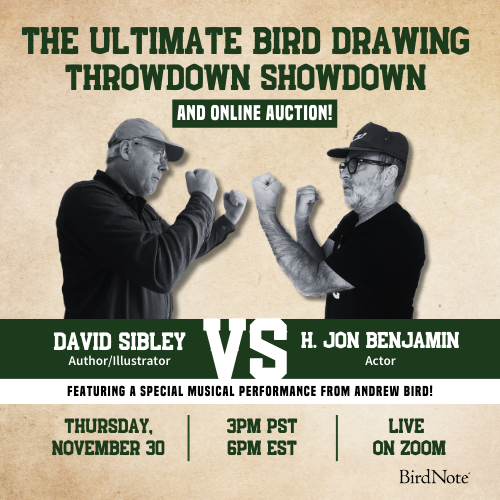 Join BirdNote tomorrow, November 30th!
Illustrator David Sibley and actor H. Jon Benjamin will face off in the bird illustration battle of the century during BirdNote's Year-end Celebration and Auction!
Thank you for supporting BirdNote and for believing in our conservation mission. For a year that presented so many challenges, BirdNote is proud of all the ways that we stretched to make a difference — to support the future of birds and the planet we share with them.
Because of your generosity, BirdNote continues to expand our reach to people around the world who will stand up for birds and conservation. We are grateful to you for supporting us, and to the 200+ public radio stations that broadcast BirdNote in North America. Thank you for being a champion for birds!
 
Stories that Inspire
The daily show featured expanded conservation coverage and new voices from independent producers throughout the U.S.

In the Clear: The Problem with Birds and Glass examined window strikes, bird-friendly glass, and ways to help #BringBirdsBack from this ongoing threat.

Rachel Carson and the Veery explored Carson's relationship with Dorothy Freeman. That relationship grew from their shared love for the natural world — and one species of bird in particular: the Veery.

The second season of Sound Escapes invited listeners to transcend troubling times through the art of listening to nature.

The Grouse podcast investigated the complex range of issues and stakeholders determining the fate of the Greater Sage-Grouse.

The pilot season of the Threatened podcast transported listeners to some of the most beautiful and remote places in North America — where birds are calling humans to take action.
 
Expanding BirdNote's Reach
The beautiful new BirdNote.org supported the distribution of a broad range of digital programming and created the foundation for building a broader community of supporters. Thank you to our generous donors for making the 2020 website upgrade possible.

The BirdNote audience continues to grow, inviting an unprecedented number of people to experience the wonder and joy of birds: 
Radio broadcasts of the daily show reach approximately 2 million listeners in 400+ communities. 
The daily show podcast logged more than 3,191,762 listens. 
Longform stories logged more than 323,868 listens.
Fans visited our website nearly 1 million times (a new record). 
Digital distribution through our newsletter and social media communities expanded to 80,000 people worldwide, and that number continues to grow.
 
Working to #BringBirdsBack
Given the alarming decline in North American birds reported in 2019, BirdNote has significantly expanded conservation programming. We also continued our participation in the national #BringBirdsBack campaign, which builds critical awareness of simple, accessible ways to protect birds and contribute to conservation. BirdNote's new Bring Birds Back podcast is in the works, and you can hear the first episode in May. BirdNote is grateful to the Horizons Foundation for supporting this critical work.

BirdNote Intern Demonstrates
Conservation Leadership
BirdNote intern Henrietta Waltz has been working diligently to advance our mission. Since Henri joined the BirdNote team in 2020, she has developed a powerful voice in the choir for conservation. Be sure to read Henri's opinion piece in The Seattle Times for inspiration and hope for the future.
 
Bob Sundstrom: Champion for BirdNote
Did you know that nearly half of the 1,600+ stories in the BirdNote archive have been written by Bob Sundstrom? During 2020, Bob wrote many of our most popular shows, including Birds Have No External Ears, Cardinals' Duet, and Why Is My Robin Half White?

Bob has been a tireless champion for BirdNote since 2006, introducing thousands of people to our programming. Visit our webpage celebrating Bob's work, and read these messages to Bob from the BirdNote community. 
 
Donor Spotlight
We are humbled by the transformational support BirdNote has received from Jim and Birte Falconer to expand our programming and to help #BringBirdsBack. After hearing the BirdNote story, "In the Clear: The Problem with Birds and Glass," the Falconers  helped launch Seattle Audubon's new Bird-safe Cities initiative. The Falconers' commitment to conservation inspires the BirdNote team every day, and we are deeply grateful for their partnership.
 
2020 Funding Snapshot
Operating Revenue: $964,122
Individual Contributions: $812,352
Foundation Grants: $112,250 
Corporate Underwriting: $31,887
Sales and Other Income: $7,314
In Kind: $319
Operating Expenses: $739,702
Telling Stories: $380,686
Managing and Building the Organization: $298,099
Outreach: $60,598
In Kind: $319
 
Recognizing BirdNote Partners
We are deeply grateful to each of our donors and to the following program partners for your support and belief in our mission:

Audubon, for sharing BirdNote stories online, through social media, and in Audubon magazine.

BirdNote's contributing photographers, who freely share their images for use on our website, in social media, and in other communications.

Cognition Studio, for in-kind contributions of web and design services, and to Kristine Johnson for serving as design advisor for the new BirdNote website.

KNKX, BirdNote's flagship radio station, along with more than 200 stations and outlets in North America, for sharing our programs.

The Macaulay Library of the Cornell Lab of Ornithology, for providing most of the bird sounds and video content featured in BirdNote shows.

Sasquatch Books, for publishing the BirdNote Field Journal, BirdNote, the book, and "BirdNotes" note cards.

Seattle Audubon Nature Shop for being our exclusive retail partner for all your shopping needs.

Victor Emanuel Nature Tours, for serving as BirdNote's adventure trip outfitter.

Mark Wittow of K&L Gates LLP, for pro bono counsel on legal and intellectual property matters.
 
How to Listen
On the air: find a station near you that broadcasts the daily show.
Online: listen at the beautiful new BirdNote website or subscribe to our weekly email newsletter.
Via podcast: Subscribe through your favorite podcast app.
YouTube: Listen to our longform series as playlists in video form.
Enjoy photos, stories, audiograms, and videos every day:
BirdNote's Commitment to Conservation
Did you know the BirdNote team worked virtually long before the COVID-19 pandemic started? It's one way that BirdNote has aligned our business practices with the principles of conservation. We hope your investment in BirdNote inspires confidence, knowing we are committed to the following actions:
Reducing the use of paper and increasing electronic communications with supporters and friends.
Working virtually: BirdNote staff and contractors have worked collaboratively online for over 15 years, reducing overhead costs for the organization and eliminating carbon emissions from staff commutes.
Telling stories digitally through the upgraded BirdNote.org and our social media communities.
Supporting conservation through ecotourism, which will resume when traveling safely is possible.
Motivating our staff, contractors, and board members to live in greater harmony with birds and nature.
Learn more about our commitment to conservation.
 
Thank You!
People who care deeply about birds and conservation make it possible to produce BirdNote. Thanks to your support, BirdNote programming is free and accessible to all, including radio stations.
 
Our Mission
Birds connect us with the joy and wonder of nature. By telling vivid, sound-rich stories about birds and the challenges they face, BirdNote inspires listeners to care about the natural world – and take steps to protect it.

BirdNote Team
Meet our staff, board members, volunteers, and other team members.

BirdNote Conservation Partners
Connect with BirdNote's partners and get involved in conservation.

Contact BirdNote
Drop us a line!
Support BirdNote
Your donation makes BirdNote programming free and accessible to all.
Bird Images:
Royal Tern
Northern Harrier
Black-bellied Plover
Atlantic Puffins
Black-capped Chickadee
Snow Geese
White-throated Sparrow
Northern Shoveler
Red-headed Woodpecker
 © Owen Deutsch 
Audiogram Image:
Fox Sparrow © Jon Cox
Photo to Jim and Birte Falconer
© Sallie Bodie
Photo of Henri Waltz
Courtesy of Valerie Waltz
Photo of Bob Sundstrom
Courtesy of Bob Sundstrom