Image: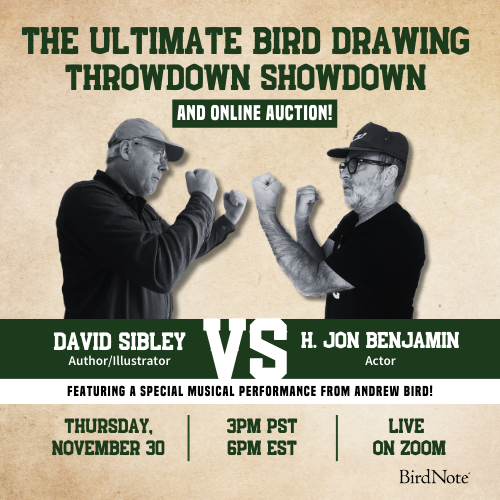 Join BirdNote tomorrow, November 30th!
Illustrator David Sibley and actor H. Jon Benjamin will face off in the bird illustration battle of the century during BirdNote's Year-end Celebration and Auction!
Archaeological discoveries in Chile strongly suggest that chickens reached the New World about 100 years before the first Europeans. They apparently crossed the Pacific aboard outriggers piloted by Polynesian navigators. The DNA found in chicken bones in Chile resembles that of bones found in the islands of Polynesia. The chickens carried by Polynesian seafarers probably resembled the native junglefowl of Southeast Asia, from which modern chickens are descended.
BirdNote®
Chickens Circle the Earth
Written by Todd Peterson

This is BirdNote!
[Rooster crowing]
Until now, conventional wisdom has held that European explorers introduced chickens to the Americas. Archaeological discoveries in Chile, however, strongly suggest that chickens reached the New World about a hundred years before the first Europeans. The chickens did so apparently by crossing the Pacific aboard ocean-going outriggers piloted by Polynesian navigators. The DNA found in chicken bones at a Chilean site resembles the DNA in bones found in the islands of Polynesia.
[Clucks of chickens]
Birds were essential traveling companions and guides for the great Polynesian seafarers. The chickens they carried probably resembled the native jungle fowl of Southeast Asia, [Call of the jungle fowl] whose call we're hearing, from which modern chickens are descended. The island navigators also often took along frigatebirds that they released and followed to land. The ancient sailors counted on the birds' unerring ability to find landfall in the vastness of the great ocean. [Sound of wind and waves]
The American navigator, Harold Gatty, believed that the Hawaiians found their islands by following the spring migration of the Golden Plover from Tahiti to the Hawaiian chain.
[Rooster crowing]
So it now seems that chickens circled the globe earlier than we had known and that birds have much to tell us about our own—and the world's—history. [Rooster crowing]
I'm Frank Corrado.
###
Crowing of an Araucanas/Rhode Island Red rooster and chickens recorded by C. Peterson
Jungle fowl from Carolinas Virginia Pheasant and Waterfowl Society
Ambient sounds by Kessler Productions
Producer: John Kessler
Executive Producer: Chris Peterson
© 2010 Tune In to Nature.org       August 2010
ID# 081607chicken2KPLU                 chicken-02